Master Cook Professional 2-Burner Liquid Propane Gas Grill Review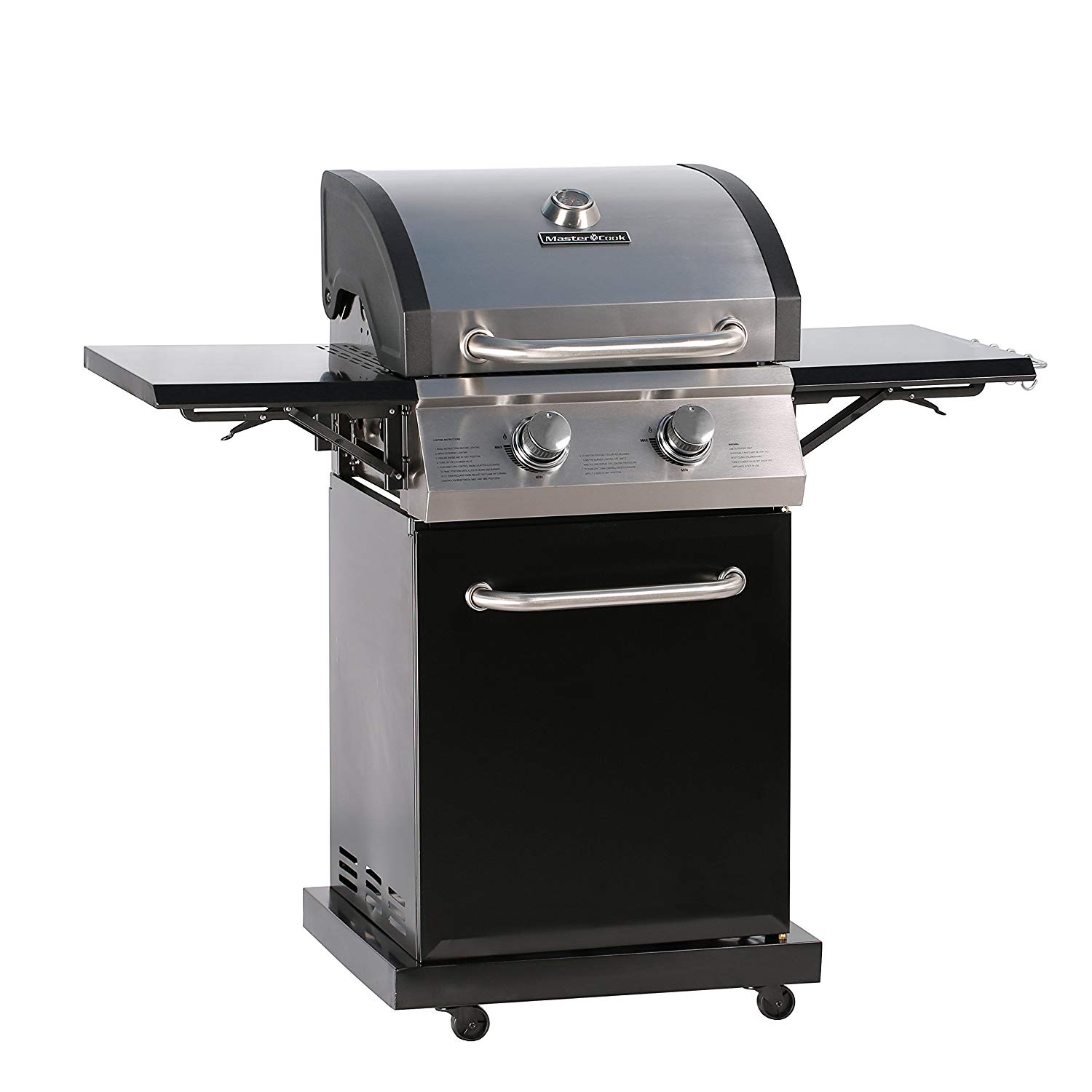 Master Cook Professional 2-Burner Liquid Propane Gas Grill Review
Compact size for people with limited outdoor space
Integrated lighting system designed to work every time
Durable materials
Easy to assemble
Stainless steel shroud
Visually appealing
Ability to hybrid grill
If your home has limited outdoor entertainment space, then chances are good you've had to debate about what you want to keep on it. For some people making room for a large grill can be a challenge. To answer this all too common issue MASTER COOK offers their Professional 2-Burner Liquid Propane gas grill.
It was specifically designed to be compact for people with limited space yet provide enough cooking surface to accommodate families who have a lot of mouth's to feed. It includes a pair of 26-inch side tables that fold down to save space when not in use. Its specific dimensions are 49.25-inches long by 22.25-inches wide and 44.25-inches high.
The grill hood, firebox, and shroud are made from high-quality stainless steel. The stand, frame, side table, and other components of the base are made from sturdy powder coated steel. The end product is a propane-fired grill that works great, looks good, and fits easily in tight spaces.
The two-burner system includes an integrated piezoelectric ignition system, which is designed to light easily, every time. This spares you the hassle of trying to fire up the burners with a lighter.
The primary grill grates are made from special porcelain-enameled cast iron, which helps with heat absorption for a superior sear. The MASTER COOK propane grill also includes a warming rack to help hold over foods that get done early, while you finish grilling the rest of the meal.
One other thing to note is that this grill is designed to work exclusively on propane. MASTER COOK does not offer a natural gas conversion kit at this time. You should attempt to use natural gas with this grill. The regulator is designed to connect with a 25-pound or larger propane tank.
Construction & Ease of Assembly
The main grill shroud comes assembled and needs little assembly after unpacking. The base itself comes in flat pieces that will need to be put together. With some basic tools and a modest amount of mechanical skill, you should be able to put the entire grill together. For those who are interested MASTER COOK also offers a professional assembly service.
The high-quality stainless-steel shroud is designed to last for a very long time. The inside of the firebox has also been porcelain-coated to help prevent tarnishing from drippings. The powder-coated steel used for the base and side tables is also intended to be very sturdy, and not prone to rusting or corrosion.
Grilling Performance
The MASTER COOK Professional 2-Burner Liquid Propane Gas Grill is rated to generate 32,000 BTU's of consistent heat. Each burner has its own independent control knob. This can allow you to do things like hybrid grilling, where you leave one burner off to indirectly heat something like a chicken leg quarter, that needs time to cook through and be tender. When it's ready, you can then flip it directly over the fire to sear and mark it.
This type of grill might be able to handle smoking smaller pieces of meat by placing an accessory wood chip box or foil packet over the direct flame. This would allow you to say smoke a chicken, portions of spare or beef ribs, and maybe even a small pork shoulder. However, it won't be large enough for something like a brisket flat.
Grilling Areas
The porcelain coated cast iron primary grill grate is 312 square inches, which is more than enough room to grill food for a family of four as well as many more. It also has an 89.75 square inch warming rack that is positioned at the back of the grill's shroud. Combined the two racks provide you with 399.75 square inches of cooking area.
Special Features
The MASTERCOOK 2-Burner Liquid Propane Grill was designed for space saving and convenience. It's folding side tables give you ample space for platters, tools, and serving trays while you are grilling. They then fold down to minimize the grills physical presence in your outdoor cooking space.
It also includes an Integrated piezoelectric ignition system for easy lighting every single time.
Ease to Clean
Like most propane grills the MASTER COOK 2-Burner Propane Grill will benefit from some basic cleaning after every grill session. Most of the time a gentle scrub down with a wire brush will remove any burned-on material from the grill grates. If something is stubbornly stuck on the grates can be removed and soaked for a few minutes to loosen the unwanted material.
Since the grates have been coated in a durable layer or porcelain they won't be at risk for rust. Any drippings that have burned onto the propane burners will need to be gently cleared away. In most of these cases, it is better to use a stiff nylon brush as opposed to a wire brush. If the firebox has excess material in it, it should also be brushed or wiped away after every use.
Warranty
MASTER COOK does not specifically offer a warranty for this grill. However, there are two year and three-year protection plans available that can be purchased at a very reasonable price.
Conclusion
If you have limited outdoor cooking space, or you simply want a propane grill that tucks away neatly on your deck or patio, the MASTER COOK propane grill offers you the ability to prepared grilled food quickly and conveniently. Even if you aren't mechanically inclined, it is easy to assemble. When necessary MASTER COOK also offers an expert assembly service for a reasonable price point.
Compact Quality For Small Outdoor Spaces
PROS
Compact size for people with limited outdoor space
Integrated lighting system designed to work every time
Durable materials
Easy to assemble
Stainless steel shroud
Visually appealing
Ability to hybrid grill
CONS
Too small to indirect heat large cuts
No natural gas conversion kit
No manufacturer's warranty