Camp Chef PG24 Deluxe Wood Pellet & Smoker Grill Review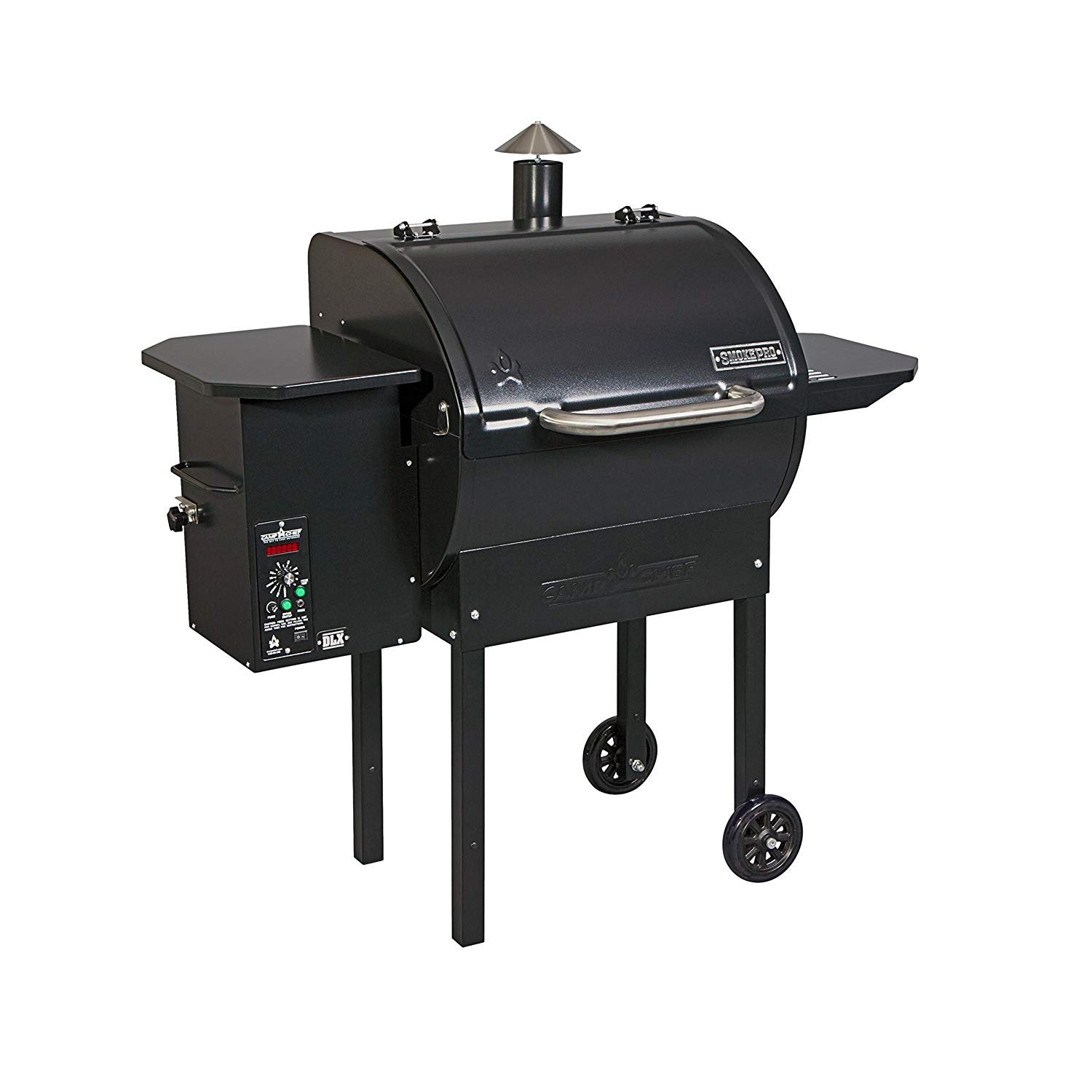 Camp Chef PG24 Deluxe Wood Pellet & Smoker Grill Review
Dual thermometer
Digital controls
Easy to use
Easy to clean
Pellet grills and smokers continue to increase in popularity throughout the United States due to their ability to conveniently produce competition level smoked meat and barbecue. They all work on a similar design process, where a hopper of commercially produced wood pellets are precisely delivered to a firepot via a carefully controlled internal auger.
A small fan ensures that the fire receives a constant airflow. This also helps distribute heat and smoke to the primary cooking chamber. Camp Chef steps up to the proverbial plate by offer their high quality take on the competitive pellet grill with their PG24 DLX Deluxe.
It has the same internal fan, auger, and heat deflector that you find in other wood pellet grills. However, The Camp Chef PG24 Deluxe Pellet Grill stands apart with a few other features and included accessories. Some of the competitors for this size and price point do not always provide a metal dripping's pot, but the PG24 does. It also has an ash collection bin that is large and very easy to pull out.
One area where the Camp Chef PG24 Deluxe Pellet Grill really stands out is in its digital control system. It includes an internal thermometer as well as a meat thermometer. When you set the internal chamber temperature, to a specific temperature the system automates the rate that the auger delivers the wood pellets, to hold it within 10 to 15 degrees of the desired temperature.
The internal meat thermometer then keeps track of what temperature the meat is at. This saves you the wasted smoke and heat loss of frequently opening the door to check the temperature of the meat, which can be a big benefit if you are smoking pork shoulders, a whole chicken, or a brisket.
Construction & Ease of Assembly
The metal used for the Camp Chef PG24 Deluxe Pellet Grill is slightly thicker than competitors in the same size and price point. This also allows it to have very durable welds, as well as fastener connections with handles and other components.
It seems pretty clear that Camp Chef put extra effort into the design of the PG2$DLX, to make it easy to assemble. With some basic tools and a little mechanical sympathy, you should be able to fully assemble it in 75 to 90 minutes.
Grilling Performance
The Camp Chef PG24DLX Deluxe Pellet Grill has a temperature range from as low as 160 degrees all the way up to a scorching 500 degrees. Just keep in mind that the higher you set the temperature in the primary cooking chamber, the faster the auger will go through wood pellets.
Like all wood pellet grills, the Camp Chef PG24 Deluxe Pellet Grill doesn't use direct heat to cook the food in the primary chamber. This means you won't get exactly the same kind of sear and crust that you might get from a charcoal, gas, or infrared grill, when you are grilling a steak.
However, you can get around this by placing a porcelain coated, cast iron griddle with ridges in the primary cooking chamber. Allow it to absorb heat for 20 to 30 minutes at 400 degrees. Then you can place your Steak down and the heat transfer from the cast iron to the meat will replicate classic fire-kissed sear, while the smoke in the chamber adds to the flavor and aroma of the meat.
At a full tilt 500 degrees, the Camp Chef PG24 Deluxe Pellet Grill will go through a little less than 1 pound of wood pellets in an hour. However, set to a more comfortable 250, you might only use around a third to half a pound of wood pellets in an hour. This means the 18-pound hopper can hold enough wood pellets to smoke a full brisket, with plenty to spare for another!
Keep an eye out for carbon buildup on the thermometer in the primary cook chamber. With repeated use, excess carbon could affect the accuracy of the readings, leaving you with an internal temperature that is higher or lower than the display indicates.
Grilling Areas
The primary cooking chamber provides you with a spacious 570 square inches of grilling space, which is more than enough to cook multiple racks of ribs, a full brisket, or a pair of pork shoulders. If you remove the 141 square inch upper warming rack, you will even have enough vertical space to smoke a whole, large, turkey.
Special Features
The patented ash collection pan is specifically designed to help with cleanup, and pulls out easily once you are done with a smoking session.
The digital controls help you dial in precisely the level of heat you want. The meat thermometer built into the unit saves you the cost of having to purchase a remote probe thermometer, while also allowing you to know what temperature the meat is at, without having to open the door.
Ease to Clean
The Camp Chef PG24 Deluxe Pellet Grill is easier to clean than competitors in the same size and price point. The ash collection pan pulls out easily, so you don't have to reach in and scoop, or use a shop-vac. The grates can be removed and washed in warm soapy water if there is any leftover grease, marinade or seasoning rub.
Every few sessions, you might want to take an extra minute or two to wipe down the thermometer in the primary cooking chamber. The goal is to clear away any excess carbon build up to make sure the thermometer is always giving you an accurate reading.
The seals on the hopper are not watertight. Meaning if you leave wood pellets in the hopper and it rains, it could degrade them enough to cause a major mess. Buying a cover, or keeping it in a covered area when not in use will help. If you know that it's going to be very humid, you might want to remove excess wood pellets from the hopper.
Warranty
The Camp Chef PG24DLX Deluxe Pellet Grill only comes with 1-year warranty, compared to competitive units which offer a 3-year warranty.
Conclusion
When it comes to quality, design, and ease of use, it's hard to look past the Camp Chef PG24DLX Deluxe Pellet Grill. Especially given its friendly price point. Just remember to clean the thermometer from time to time, and it is sure to give you years of delicious smoked meats and vegetables.
Very Competitive Wood Pellet Grill
PROS
Dual thermometer
Digital controls
Easy to use
Easy to clean
CONS
Cannot sear like a traditional grill
Hopper is not watertight
Only comes with a 1-year warranty