Louisiana Grills Champion Wood Pellet Smoker Grill Review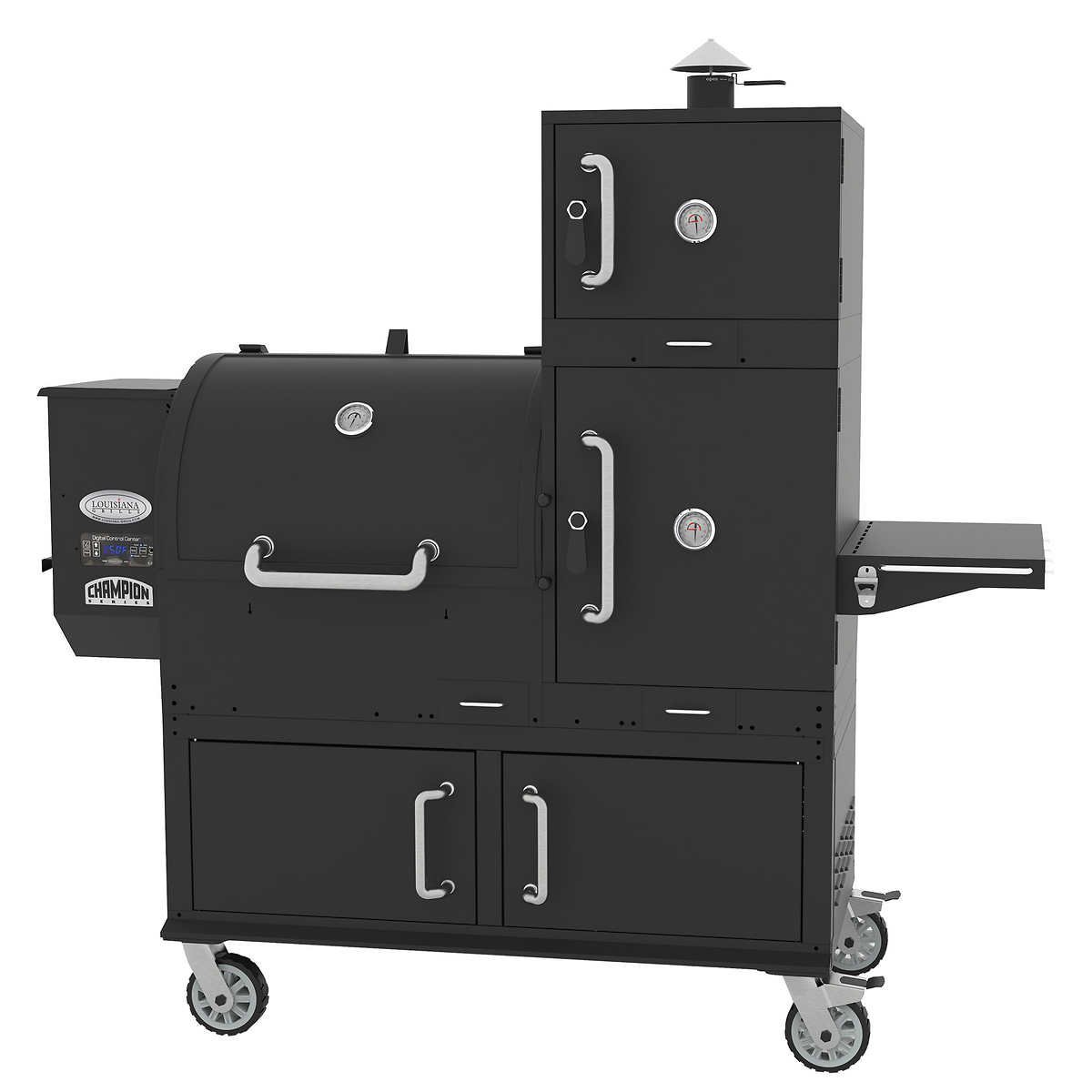 Louisiana Grills Champion Wood Pellet Smoker Grill Review
High-quality materials throughout
Broiler for direct heat grilling
Programmable meat probe thermometer
Superior warranty included
Two smoking cabinets included
A large wood pellet grill can create a lot of different foods including barbecue brisket, pork shoulder, smoked sausage, butterflied chicken, slow-smoked shrimp, and even grilled pizza. The Louisiana Grills Champion Wood pellet grill takes this concept a step further by including a sliding broiler plate for direct heat grilling.
This allows you to use it as a smoker or a grill with little more than the slide of a little metal plate. The two accompanying cabinets are attached to the primary barrel chamber. They include sliding vents and their own door mounted thermometer.
This also allows you to use them as an additional hot smoking cabinet area, or dial them down to handle cold smoking applications. With a little creativity and experience, you can even use them to slow smoke sausage, make your own slab bacon, cold smoke fish or shrimp, and even add a nice smoky note to a batch of beef jerky.
The Louisiana Grills Champion Pellet Grill is large. You could go so far as to say it's gigantic! Yet you shouldn't let that give you the impression that it's too much grill for making a simple Tuesday night supper. The side smoker cabinets can be closed off, and you can use the broiler plate in the main barrel chamber to grill up a small meal.
On the other end of the spectrum, if you open up all the chambers and install all of the grates the Louisiana Grills Champion Pellet Grill 3,432 square inches of cooking space. This is more than enough to host the next big family reunion or local block party.
The Louisiana Grills Champion Pellet Grill is rated to produce up to 48,000 BTUs of heat, which is more than enough to supply each cabinet, as well as the broiler in the main barrel chamber. It also has a fan-forced convention airflow in the main chamber, as well as a proprietary exhaust system in the back to maximize the flow and distribution of the smoke.
The digital controls work in five-degree increments. Its thermostat is designed to work in tandem with the programmable meat probe thermometer. This allows you to dial in the heat to the meat, while also allowing you to hold over anything that gets done early.
Construction & Ease of Assembly
Louisiana Grills hangs their hat on using heavy-duty materials to provide you with a high-quality grill that will last for many years to come. They use thick 14-gauge steel throughout the Champion Pellet Grill. Then it is all protected by a very durable layer of powder coat. The heavy-duty cast iron grill grates are coated with a special layer of nonstick porcelain. This maximizes heat retention, while also making it easy to clean the grates afterward.
Assembling the Louisiana Grills Champion Pellet Grill can be a daunting task. It is a relatively complicated and very large wood pellet grill. There are a lot of parts and when it's fully assembled it rings in at a staggering 460 pounds!
It's not the sort of thing you are going to just slap together in the garage on a Wednesday night after work, and then haul it up the steps onto your deck. You should plan for it to eat up the better part of a Saturday afternoon, and you will need at least one person to help you. It might even be wise to promise two friends a free meal if they'll show up and spare you getting a hernia.
You should plan on assembling it where it will spend its life, rather than attempt to move it. Yes, there are four quality casters, and they do roll easier than you might think. Still, moving the Champion Wood Pellet Grill is like moving a football blocking sled.
Grilling Performance
You would be hard pressed to think of something that the Champion Wood Pellet Grill can't make. Depending on how you dial it in, it can go as low as 60 degrees for cold smoking in a side cabinet, or roar as high as 600, for searing off steaks over the broiler plate.
The main chamber has removable grates if you wanted to do something like smoke a half dozen racks of beef or pork ribs. It also makes a really nice grilled and smoky pizza. The lower cabinet can be dialed down to act as a warming rack. It also does a really good job at smoking shrimp and fish.
Grilling Areas
With all the grates installed into the barrel and the two smoking cabinets, you can enjoy 3,432 square inches of cooking space. With a little practice, you can even use them in tandem to create different cooking zones and temperatures.
Special Features
The sliding broiler plate is something that you are starting to see here and there in newly designed wood pellet grills.
The two smoking cabinets with their own independent vent controls allow you to cold smoke in one and hot smoke in the other at the same time.
The digital heat control works in tandem with the programmable meat probe.
The proprietary exhaust system improves internal smoke circulation, while also minimizing the amount of smoke that comes at your face when you open the main door of the barrel chamber.
Ease to Clean
The Champion Wood Pellet Grill is a bit of a beast. If you are going to use every single chamber, you should expect it to take you a while to get everything cleaned up afterward.
The grill grates are all porcelain enameled which helps keep food from sticking. They can also be removed if you need to wash them in soapy water. The special porcelain coating will prevent rust.
Warranty
The Champion Wood Pellet Grill comes with a 5-year limited warranty from the date of sale to the original owner only, against defects and workmanship on all steel parts, (excluding the burn grate). There is a 3-year warranty on electrical components.
Conclusion
If you are looking for a large, high-quality wood pellet grill that can do it all, then the Louisiana Grills Champion needs to be at the top of your list. It's been designed for maximum results and there is very little that it can't do.
Premium Quality Large Capacity Wood Pellet Grill
PROS
High-quality materials throughout
Broiler for direct heat grilling
Programmable meat probe thermometer
Superior warranty included
Two smoking cabinets included
CONS
Very large and heavy
Requires a lot of assembly
Difficult to move