Lonestar Chef SCS-K15B Lifesmart 15″ Ceramic Grill & Smoker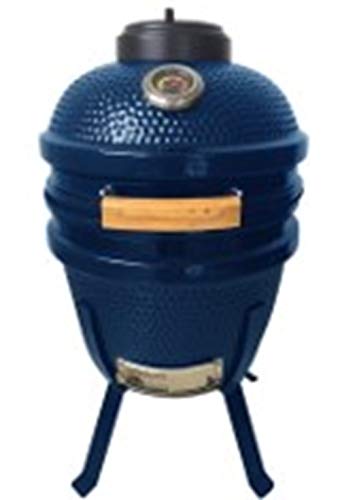 Lonestar Chef SCS-K15B Lifesmart 15″ Ceramic Grill & Smoker
Comes with a cover, and deflector stone
Electric start included in the purchase
Deflector stone can double as a pizza stone
Their basic design and common materials make kamado grills very versatile. This, of course, drives competitors in this growing niche to offer more and more interesting twists on what is essentially a very similar type of cooking appliance.
For some, this comes in the form of optional accessories that make it easier to use the kamado grill to do some relatively unique things. Unfortunately, most manufacturers offer these accessories like an extra purchase. This ultimately drives up the size of the investment.
Lonestar Chef takes a different approach with their SCS-K15B kamado grill and its value bundle of accessories. They offer a custom cover, electric starter, and deflector stone in what is an already friendly price!
The double walled ceramic body has an adjustable bottom vent, as well as a damper built into the lid. When they are dialed in properly you can use the accurate lid thermometer to maintain the temperature you want.
It comes with small feet and handles which technically makes it portable. However, it does still weigh in over 80 pounds.
Construction & Ease of Assembly
The ceramic double walled body is what you would expect in a traditional kamado grill. The thermometer in the lid is also very accurate, and easy to read. The additional extras included in the purchase is also a nice touch, and not something that you see from too many competitors
The Lonestar Chef SCS-K15B was intentionally designed to be small. This makes it a good option for life on a small deck or patio. Lonestar also stands by the claim that the SCS-K15B is portable.
This might be going a step too far. It weighs in at 81.6 pounds, which isn't something you can just tuck under your arm and go. The handles are also very small, which makes it a little uncomfortable to carry. Not to mention if the exterior is hot after a particularly long cook session, or it's simply been sitting out in the hot sun, you are going to burn your knuckles carrying it. In my opinion, you should ignore the concept of using it as a portable grill.
Assembly is pretty straight forward. The feet are easy to attach and there isn't a whole lot of moving parts.
Grilling Performance
Kamado grills are meant to be versatile enough to smoke meat slow and low, while also being able to handle direct, high heat grilling. This holds true for the Lonestar Chef SCS-K15B. However, the 13-inch grill grate is a little too small for smoking large pieces of meat. You couldn't get a butterfly chicken on it, or a beer can chicken under the lid, but you might be able to fit a small pork shoulder.
For grilling with direct flame, you can get four good sized hamburger patties. It can make a perfect ribeye Steak, with enough room on the side to handle a tinfoil pack of sliced onions and mushrooms.
The deflector stone is worthy of some debate. Technically it's meant to be a heat defector for times when you want to use the Lonestar Chef SCS-K15B as an indirect heat smoker. Yet the stone material is capable of absorbing a significant amount of heat energy.
This means that with a hot enough charcoal fire, you could indeed use it as an improvised pizza stone. Just give it a solid 20 minutes to preheat. Then lightly dust it with a little cornmeal before you place the pizza down. This is a case where jumbo lump charcoal really helps!
Grilling Areas
The single stainless steel grill grate measures in at a 13-inch diameter for 117 square inches of cooking space.
Special Features
The value bundle of accessories really is a nice touch and sets the Lonestar Chef SCS-K15B kamado apart from many of it's would be competitors.
The electric starter spares you having to use lighter fluid. This is thoughtful, since a lot of kamado grills seem to trap even the slightest hint of lighter fluid once the lid is closed.
The heat deflector stone is essential for the times when you want to use the kamado as an indirect heat smoker. While it isn't expressly stated that you can use it as a pizza stone, the thing still can make a nice pizza.
The cover is also a nice touch that you usually don't see included in the purchase with other kamado-style grills.
Ease to Clean
The Lonestar Chef SCS-K15B isn't necessarily the easiest kamado grill you will ever clean. It's too small to have a dedicated ash pan, which means you either have to try to force the spent ash out the bottom vent, or you have to scrape it out on your own. Just make sure to remove any ash to a metal bucket and stir in some water to make sure everything is out before you dispose of the ash.
Warranty
The Lonestar Chef SCS-K15B comes with a 1-year manufacturer's warranty. This is only applicable if you register the kamado grill within the first 30-days of purchase. The warranty is also only viable for the original owner.
Conclusion
If you are looking for a small kamado grill that comes with some added bells and whistles in the original purchase price, then the Lonestar Chef SCS-K15B looks like a pretty good deal. Just don't expect to use it as a portable grill, without a few knuckle busting moments along the way.
If you take your time getting to know how to dial it in, it can make a lot of really great food for you. You might even find yourself inspired enough to try your hand at grilled pizza.
Kamado Grill With Added Extras
PROS
Comes with a cover, and deflector stone
Electric start included in the purchase
Deflector stone can double as a pizza stone
CONS
A little awkward as a portable grill
Can be tricky to clean out ash
Grill grate is a little small
Not a lot of height under the lid