Realcook Vertical 20″ Steel Charcoal Smoker BBQ Grill Review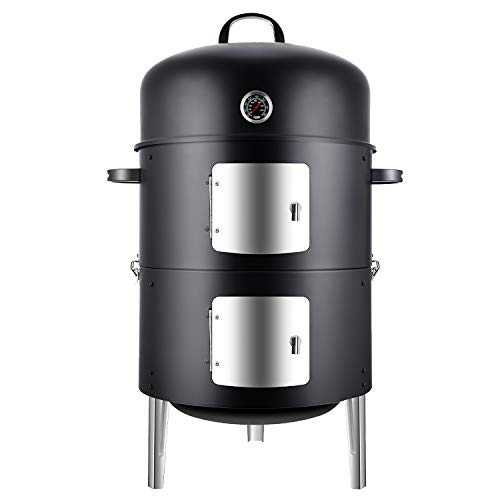 Realcook Vertical 20″ Steel Charcoal Smoker BBQ Grill Review
Can be used as a smoker or grill
Accurate thermometer
Sausage hooks in the lid
Dual side access doors

$

99.99

$149.99
1 used from $93.19
1 new from $99.99
in stock
One of the big problems you run into when shopping for a smoker is that most are essentially "One Trick Ponies." In order to be really good at smoking things slow and low, they also sacrifice the ability to grill things over direct flame. With some charcoal smokers, you can improvise by taking out a water pan to get a Steak or hamburger patty closer to the flame, and you can live with the end results.
The Realcook Vertical 20 Inch Steel Charcoal Smoker takes the concept of a smoker and breaks it down into its constituent parts. The sections allow you to use it as a firepit, a direct heat grill, or a double chambered charcoal smoker. When fully assembled all the entire unit measures in at 41-inches tall.
The body includes heat resistant handles and two access doors. This allows you to reload charcoal and wood chips in the lower fire chamber, without having a massive effect on the heat and smoke in the primary cooking chamber.
At the bottom of the fire chamber, there is an easy to control air vent. It allows you to accurately control the amount of oxygen that is introduced to the fire. It works in concert with the air vent on the lid which controls the amount of heat and smoke that is allowed to exit the cooking chamber. A highly accurate thermometer helps you monitor the relationship between these two dampers
The Realcook 20-inch Charcoal Smoker also comes with hooks that attach to the underside of the lid. This allows you to hang linked and ring sausages while you smoke other foods on the two cooking grates.
Construction & Ease of Assembly
The quality materials used in the Realcook Vertical 20 Inch Steel Charcoal Smoker is relatively high considering its very friendly price point. In a perfect world, it would include some level of insulation beyond just porcelain-enameled steel. The side access doors do leak a little bit and would benefit from some type of improved seal.
Still, these flaws are acceptable in a "You get what you pay for" kind of way. If Realcook included these upgrades it would certainly raise the price. Ultimately, you will only notice the insulation issue if you are smoking when the temperature is under 40 degrees. The smoke leaks are a little annoying at times, but they don't really hamper the overall smoke density inside the cooking chambers.
The locking clasps help hold all the sections together firmly and helps minimize some of the air leaks. The heat resistant handles also allow you to move it while it's still warm. Still, it's a good idea to wear some gloves, or you will get hot knuckles from the hear by warm metal.
Assembly is very easy. You should be able to have it fully put together in a little less than half an hour.
Grilling Performance
The Realcook 20-Inch Charcoal Smoker is surprisingly versatile. When you have all sections put together is does everything you expect a high capacity vertical smoker to do. It might be tricky to get a large brisket on a single shelf, but beyond that, there's enough space on the two grates to make pretty much anything you want.
Realcook includes sausage hooks that easily attach to the underside of the lid. This is relatively rare for smokers in this price range. If you like making your own homemade fresh sausage, you will get a lot of use out of them.
When you start breaking it down the Realcook 20-Inch Charcoal Smoker can be transformed into a direct heat charcoal grill or even a fire pit. This calls for taking the top smoker section out and removing the water-drippings pan. In this configuration, you could even use it as a portable grill.
Unless you are smoking a lot of meat, I would take the top section off and store it away someplace safe. Then you can use it as a smoker or a grill whenever you want.
Grilling Areas
When it's set up as a smoker the Realcook 20-Inch Charcoal Smoker provides a staggering 969 combined square inches of cooking space. This doesn't include the sausage hooks under the lid.
Special Features
The locking clasps that hold the body together aren't really all that special. Yet if they weren't there, you would certainly notice the increased air leaks and rattles.
The heat resistant handles are nice for the times when you want to use it as a portable grill.
The sausage hooks are another one of those things that aren't all that sexy on paper. If you like making your own fresh or linked sausages, you will love that they are there. You would be hard pressed to find another smoker in this price point that includes them!
Ease to Clean
The drippings-water pan does a good job of catching a lot of the greasy discharge. The grates are made from chrome plated steel. When you use it as a smoker, this isn't a big deal. When you use it as a direct heat charcoal grill, it can cause some meats to stick, which requires a little extra effort to scrape down.
Probably the biggest part of the cleanup is getting all the ash out at the end. It's best to let it burn itself out. Then release the lower locking clasps and carefully set aside the top sections and lid. You can then take the small base and pour out the dead coals and ash into a firepit or metal bucket.
Conclusion
If you are in the market for a vertical, high capacity charcoal smoker that can truly pull double duty as a grill, then it's hard to look past the Realcook 20-Inch Charcoal Smoker. When you also factor in the friendly price point, it would be hard to find another smoker/grill combo that can stand above it.
PROS
Can be used as a smoker or grill
Accurate thermometer
Sausage hooks in the lid
Dual side access doors
CONS
No insulation for cold weather
Air leads in body and joints
Handles are small
No warranty to speak of