Kenmore PG-40409S0LB 4 Burner Grill Plus Searing Burner Review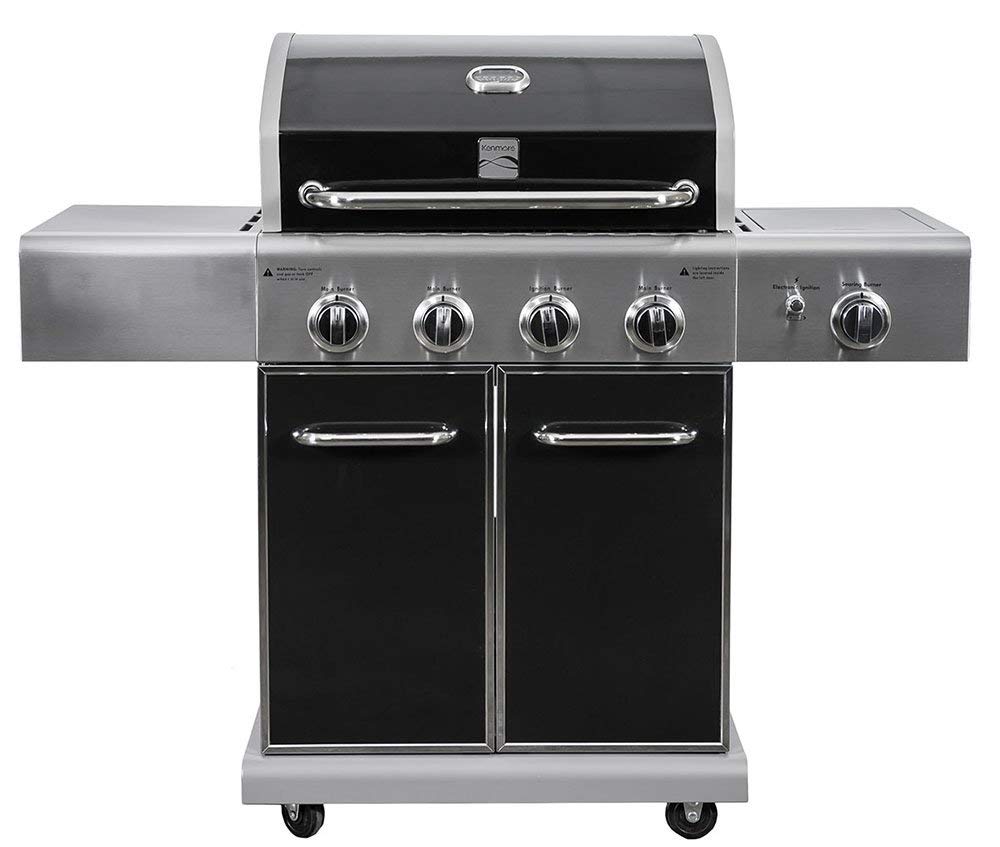 Kenmore PG-40409S0LB 4 Burner Grill Plus Searing Burner Review
Large primary grilling area
Searing burner disguised inside table
Ability to hybrid grill
Electric ignition
Cabinet style for convenient storage and visual appeal
If you have a large family or you simply find yourself needing to grill for a significant number of people, and you also prize the convenience of a propane grill, there are several options to consider. One option worth of your time is the Kenmore PG-40409S0LB 4 Burner Grill plus Searing Burner.
It is designed to run exclusively on propane. It features four primary propane burners which generate 10,000 BTU's of heat for a primary grilling surface that measures in at 459 square inches. It also has a 162 square inch warming rack for a grand total of 621 square inches of cooking and heating space.
It's also worth noting that the Kenmore PG-40409S0LB also has a convenient searing burner hidden inside one of the flip top side panels. It produces a very hot 12,000 BTU's which allows you to do things like sear off a Steak or mark the skin on a chicken breast. The burners are linked to an electric ignition system to save you the hassle of using a stick lighter.
The grill grates are made from strong cast iron and have been carefully coated with a special layer of porcelain. This allows for superior heat retention and searing as well as easy cleanup.
The Kenmore PG-40409S0LB was designed with a cabinet base and frame. This allows you to conceal your propane tank while also providing you with storage for special tools and equipment. Combined with the stainless steel and black powder coat finish, the end result is a grill with a lot of sleek visual appeal.
Construction & Ease of Assembly
Kenmore used quality materials in the design and construction of the PG-40409S0LB 4-burner propane grill. Stainless steel powder coated metal and quality fasteners all provide it with durability as well as aesthetic visual quality.
However, assembling this grill at home can be a bit of a challenge compared to more basic charcoal grills. With basic tools and a little mechanical sympathy, you should be able to fully assemble the unit in around two hours. If you prefer, some online manufacturers offer an expert assembly service for a relatively reasonable price.
Grilling Performance
The Kenmore PG-40409S0LB 4 burner propane grill provides enough cooking space to grill for a large family or a gathering of friends. Each of the four stainless steel propane burners is independently controlled and run from front to back. This allows you to do more than simply grill over direct heat and flame.
You could, for example, turn off two burners on the far left, and place something like a pork shoulder or multiple racks of rubs. Then you could turn on the two burners on the right to medium-low heat to cook the meat on indirect heat. With an accessory smoker box or pouches of heavy duty aluminum foil loaded with wet wood chips, you could replicate the process of classic barbecue.
The searing burner hidden under the flip top of the right-hand side table also offers some creative grilling options. You could grill a tougher piece of meat like chicken leg quarters or a trussed leg of lamb on slow and low heat on the main grilling area. Once it is juicy, tender and cooked through, you can then fire up the side searing burner to mark or crisp the skin.
The side burner can also be handy if you want to do something like reverse sear a steak. In a pinch, you could even place a pot of water over it to simmer some cobs or corn or use a cast iron skillet to saute vegetables for fajitas.
Grilling Areas
The Kenmore PG-40409S0LB 4-burner propane grill has a primary cooking area of 459 square inches. The grates are made from cast iron that has been specially coated with semi non-stick porcelain. This unit also includes a 162 square inch warming rack that is conveniently tucked into the back near the hinges of the lid. Combined these two areas provide you with a total of 621 square inches of grilling space.
The side searing burner is a little small compared to the massive space of the primary cooking area. It is ideal for searing off something like a big T-Bone steak. If you were marking the skin on say a dozen chicken breasts, there would be a lot of back and forth between the primary grill grates, the searing burner and then holding the batch over on the warming rack.
Special Features
Electric ignition adds to the convenience of the grill.
The searing side burner allows you to specifically mark pieces of meat, or to play with high heat applications like Japanese yakitori. In a pinch, it can even be used to simmer water, saute vegetables, or prepare other side dishes.
Ease to Clean
For its size, the Kenmore Oh40408solb 4-burner propane grill is relatively easy to clean. The porcelain layer on the cast iron grill grates makes for easy scraping after you are done grilling. Anything that gets stubbornly stuck on can be soaked away in a bin or warm soapy water, without fear of rust.
The designers also incorporated a pull-out dripping pan and grease cup to help catch things like runoff marinades, or greasy discharge.
Warranty
The Kenmore PG-40409S0LB comes with a 5-year warranty for the covers any stainless steel burner that rusts through or burns through. Otherwise, it carries a 1-year warranty from date of sale, which covers against defects in materials and workmanship. The consumer is responsible for S&H costs in both cases.
Conclusion
If you are looking for a large propane grill that can combine convenience with sleek visual appeal and a friendly price point for its class, the Kenmore PG-40409S0LB 4-burner propane grill should be on your radar. With proper care and cleaning, you can expect it to provide you with many years of versatile grilling and the ability to cook for a large group of people.
PROS
Large primary grilling area
Searing burner disguised inside table
Ability to hybrid grill
Electric ignition
Cabinet style for convenient storage and visual appeal
CONS
Searing burner is a little small
Warranty requires you to pay shipping and handling
Assembly can be complicated