Vision Grills BDCK16C1AD Classic Diamond Cut B-Series Kamado Grill Review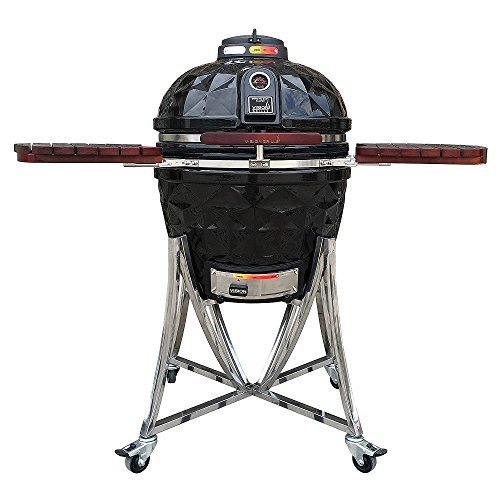 Vision Grills BDCK16C1AD Classic Diamond Cut B-Series Kamado Grill Review
Gas and electric conversion kits available
High-quality optional accessories
Pull out ash drawer for easy cleanup
Two cooking grates

$

1,139.00
2 new from $1,139.00
in stock
Vision grills is a relative newcomer to the world of outdoor cooking appliances. Still, you shouldn't let the fact that they are a small company turn you off from their well-designed kamado grills.
The Vision's Diamond Cut B kamado grill uses the classic double walled ceramic that you expect from most kamados. It also includes a stable stainless steel base with four locking casters, which accents the diamond pattern of the exterior. It also includes two wood side shelves for things like serving platters and beverages.
The base of the body has a pullout ash drawer, which makes for easy cleanup. The hinged cooking grate also helps maximize your food prep real estate.
The lid has a quality seal and an accurate thermometer built in. Not only does it make the Diamond Cut B more thermally efficient, but it also helps you dial in the damper system for more efficient temperature control.
Construction & Ease of Assembly
The Vision's Diamond Cut B has the kind of quality that you want to see when making an investment in an outdoor cooking appliance. The double ceramic walls help it burn efficiently, to use less charcoal and wood chips.
If they really wanted to stand apart in this price range they would have made the grill grates out of porcelainized cast iron, instead of chrome plated steel. Still, this isn't a major flaw.
The stylish and stable base is made from commercial grade stainless steel. The two side shelves are made from wood. While these might not seem like special features, there are some kamado grills in this price range that have a stand or shelves as an optional extra.
The Vision's Diamond Cut B Kamado Grill takes a little bit more elbow grease to put together than the competitors. This is due in large part to the somewhat complicated design of the stand base.
One interesting thing to note with the Vision's Kamado product line is the wide range of accessories they offer. This includes an optional propane insert. It's only available as an optional extra. When installed into the lower portion of the body it allows you to heat the grill using a regulated propane flame. They also have an electric conversion kit that allows you to heat the grill using an innovative electric element.
Their line of accessories also includes a variety of other thoughtful items like an electric charcoal starter, specialized griddle inserts, and a pizza stone.
Grilling Performance
Being able to convert the charcoal kamado to propane or electric certainly is an interesting feature that you don't see with the competition. Depending on what you want to use it for, these accessories can really add to the versatility of an already versatile cooking appliance.
We'll stick to the "Straight Out of the Box" charcoal version, for the purposes of this review. In this configuration, the Vision's Diamond Cut B Kamado Grill can do pretty much everything you expect it to.
With a little practice, you can really dial in a low heat down low enough to make perfectly smoked salmon or trout. If you are a fan of smoked shrimp, you need to make sure the water bath is full. This will help absorb some of the heat to impart smoke to the shrimp without overcooking them.
The Vision's Diamond Cut B Kamado Grill can also be dialed up to high temperatures that some other kamado grills can't manage. The manufacturer claims it can produce over 600 degrees of heat!
A temperature range that can go that high makes grilled pizza a very tempting idea. To help with this Vision Grills sells a special type of pizza stone accessory that is meant to specifically fit this grill. Just keep in mind this is more for fresh dough, or unbaked pizza rather than a store-bought frozen pizza.
To do this you need to set the grill up for high heat. Place the pizza stone and give it a solid 20 minutes to fully preheat. Then slide your pizza onto the stone and let it bake for a good 5 to 7 minutes with the lid closed. From that point, you should crack the lid open a bit and keep an eye on it in two-minute intervals.
Grilling Areas
The primary grill grate measures in at 302 square inches per side. When folded out you can use 604 square inches of grilling space.  This is enough space to smoke a small brisket.
Special Features
Setting aside the gas and electric conversion accessories, the Vision's Diamond Cut B Kamado Grill has all the basic features you would expect from this type of grill.
It's the cooking accessories, which you need to purchase as optional extras, that sets it apart. The pizza stone is just the right size to allow heat to crisp the bottom, while hot air pours around the edges to melt the top.
The griddle insert accessory is also rare with kamado grills. It allows you to saute vegetables for fajitas, or strips of bacon for your cheeseburgers.
Ease to Clean
In the charcoal configuration, the pullout ash drawer really helps speed the cleanup. However, you do have to sacrifice this feature for the propane conversion insert!
The grill grates are made from chrome plated steel, which means they are a little on the sticky side. A nylon bristled grill brush should be able to clean them off without scratching up the finish too badly. Lightly oiling them with a greased paper towel will also help minimize stuck-on material.
Warranty
The Vision's Diamond Cut B comes with a multi-tiered warranty. This includes five years for all metal parts, one year for temperature gauge, gasket and lid components. The side shelves have 90 days of warranty coverage as well.
You should also note that the warranty is only valid if you register the grill within 30-days of the initial purchase.
Conclusion
Right out of the box there isn't necessarily a lot that sets that Vision's Kamado grill apart from other kamado grills. It's the thoughtful accessories and the ability to convert it to gas or electric that makes it appealing. If you want a grill that maximizes its versatility at the expense of some added extras, then the Vision's Diamond Cut B really does deserve special consideration.
Very Versatile Kamado Grill
PROS
Gas and electric conversion kits available
High-quality optional accessories
Pull out ash drawer for easy cleanup
Two cooking grates
CONS
A little heavy for a kamado grill
Casters are small
Side tables have little warranty