The Original Otto Wilde 1500°F Steak Grill Review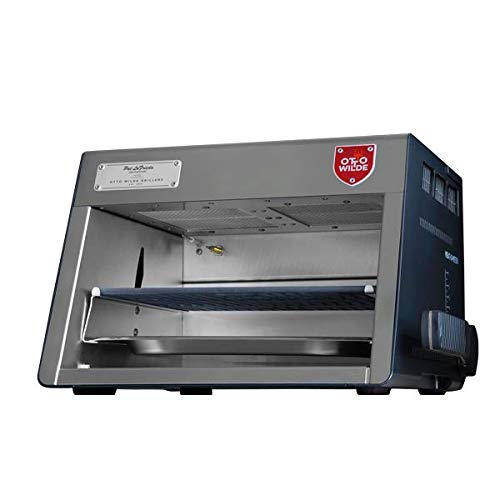 The Original Otto Wilde 1500°F Steak Grill Review
Steakhouse quality high heat
Clever Lever to adjust height of the grate
German engineering award winner
Approved by steak guru Pat LaFrieda

$

899.00

$999.00
4 new from $899.00
in stock
If you've ever been to a high-end steakhouse, you have probably noticed that there is a big difference between what they bring to your table and the ordinary piece of hot meat your grill at home produces. This is due in large part to the high heat broilers used by most steakhouses, and their ability to affect something called the Maillard Reaction.
This is a special type of chemical reaction that happens when proteins or carbohydrates are affected by high temperatures. It's what makes the difference between toast and a dry slice of bread, and it's even more prevalent when a Steak is exposed to temperatures over 500 degrees Fahrenheit.
In these conditions, the Maillard reaction creates powerful flavor molecules that the human sense of smell and taste are very sensitive to. In a steak, it also creates a beautiful sear and a pleasant crust that both add to the flavor, while also helping to lock in the meat's natural juices.
The Original Otto originally designed and built in Germany. It even won the 2018 German Design Award, which is a prestigious mark for quality in engineering.
It's set up to run on propane, which then fires a special element to produce an astonishingly hot infrared heat. Just like a professional steakhouse broiler, the heating element is mounted in the top of the unit. It does such a great job of searing steaks that it has been tested, approved, and backed by the famous steak guru Pat LaFrieda!
The Original Otto also has an adjustable grate that is operated by a lever. This allows you to bring the meat up high to be quickly seared by the infrared burner or to bring it down low to finish cooking. All without having to stick your hand under the blazing heat.
Construction & Ease of Assembly
As a product of German engineering, the Original Otto sets itself apart with quality component and materials throughout. It even won the 2018 German Engineering Design Award. The cast iron grate helps with heat retention and searing. The stainless steel drip tray also helps with cleanup.
Weighing in at just under 40-pounds it also means you can use it as a portable grill. Just make sure to also invest in the custom grill cover to help protect your investment.
There isn't a lot to do in the way of assembly. Just take your time reading the instructions. With the tools, you already have laying around the house, and a little attention to detail you should be able to put the Original Otto together in under an hour.
Grilling Performance
Pat LaFrieda himself has tested, approved, and backed the Original Otto. His family has been purveyors of steak and other high-end meat products throughout the New York City area for over three generations. He doesn't put his name behind anything lightly!
That being said, this is a high-heat grill, which can make it a little bit of a one-trick pony. You aren't going to be using this to slow roast bone-in chicken thighs. Yet it can still do more than sear a steak. You can make chops, boneless cuts of chicken, kebabs and with a little practice even grilled pizza.
When it comes to making the most out of a steak, there are a few things to bear in mind. Now, one of the other things that makes a steakhouse steak so delicious, is the fact that most of these restaurants and supper clubs are using dry-aged meat. This is a time-intensive process where the meat is slightly dehydrated in cool, fan-driven environments.
The process can take weeks, and essentially concentrates the flavor of the steak by removing 10 to 15% of its water. It's also part of what drives the high price tag you find in these steakhouses! If you really want to take the Otto steak grilling experience to the nines, you can surely find an online vendor who can ship you a dry-aged steak in a dry-ice container.
Still, the Otto is completely capable of producing a steak with a mouth-watering, knee-weakening, flavor straight from your grocery store's meat counter.
There are some things you can do to make the most out of the steak, without drying to dry age it. The first step comes with bench resting it. This involves lightly salting both sides of the steak and letting it sit out on the counter, wrapped for 10 to 15 minutes.
This will slightly bring up the internal temperature of the meat, making it easier to create a great sear on the outside, while preserving a pink, medium rare interior. If the cut of steak has a bone, such as a porterhouse or a tomahawk ribeye, you might want to let it rest for 15 to 20 minutes.
This will also give you plenty of time to let the Otto preheat. Which will also impart more heat to the grill grates for even better searing.
When you are ready to grill, you should likely pat the steak on both sides with a clean paper towel, this will remove some of the moisture to create a superior sear. Then give it another round of salt, with some fresh cracked pepper and a very light glaze of olive oil on the bottom, just to limit sticking.
You can then preheat the Otto. Sear the steak for 30 to 45 seconds at the highest height setting. Then use the lever to lower it for another minute. Use a silicone tipped tongs to flip the steak. Bring it back up to the highest setting for 30 to 45 seconds. Then lower it for one minute. This should give it a perfectly flavorful crust with a medium rare pink interior. Then wrap it in tinfoil and let it rest for five minutes before cutting into it.
It's worth bearing in mind that they also offer an accessory pizza stone. If you are inclined to grilled pizza from fresh dough, you should strongly consider buying it.
Grilling Areas
The internal grate provides you with 133 functional square inches of cooking space. This is enough to handle a full-size porterhouse steak or two large hamburger patties. This is a little bit on the small side.
If you need to grill for multiple diners, you can wrap meat in heavy duty aluminum foil and cover with a tea towel to hold over while you cook the following batches. The fast cooking time of the Otto will help you turn everything out on time.
Special Features
The high-temperature capacity is what makes the propane fired infrared burner a special feature.
The "Clever Lever" allows you to alter the height of the grilling grate so you can sear, then reduce the heat delivered to the meat.
Ease to Clean
The Original Otto is also very easy to clean. The lower dripping tray collects any rendered grease and can be easily wiped down. Just make sure to let the unit cool completely before cleaning.
Warranty
The Original Otto comes with a two-year warranty. There are also online retailers who offer affordable three-and-four-year protection plans. With the German engineering and quality of the unit, chances are you will never need to use the warranty.
Conclusion
This ultra high-heat of the Original Otto makes it very appealing for lovers of steak and grilled pizza. It's also hard to look past the high quality that comes from German engineering. Just keep in mind that its meat for things like steaks, chops, burgers, and kabobs, and not so many bone-in pieces of chicken.
Portable Grill With A Steakhouse Sear
PROS
Steakhouse quality high heat
Clever Lever to adjust height of the grate
German engineering award winner
Approved by steak guru Pat LaFrieda
CONS
Somewhat small grill grate
Only handles high heat cooking
Doesn't come with pizza stone included