Oklahoma Joe's Longhorn Offset Smoker Review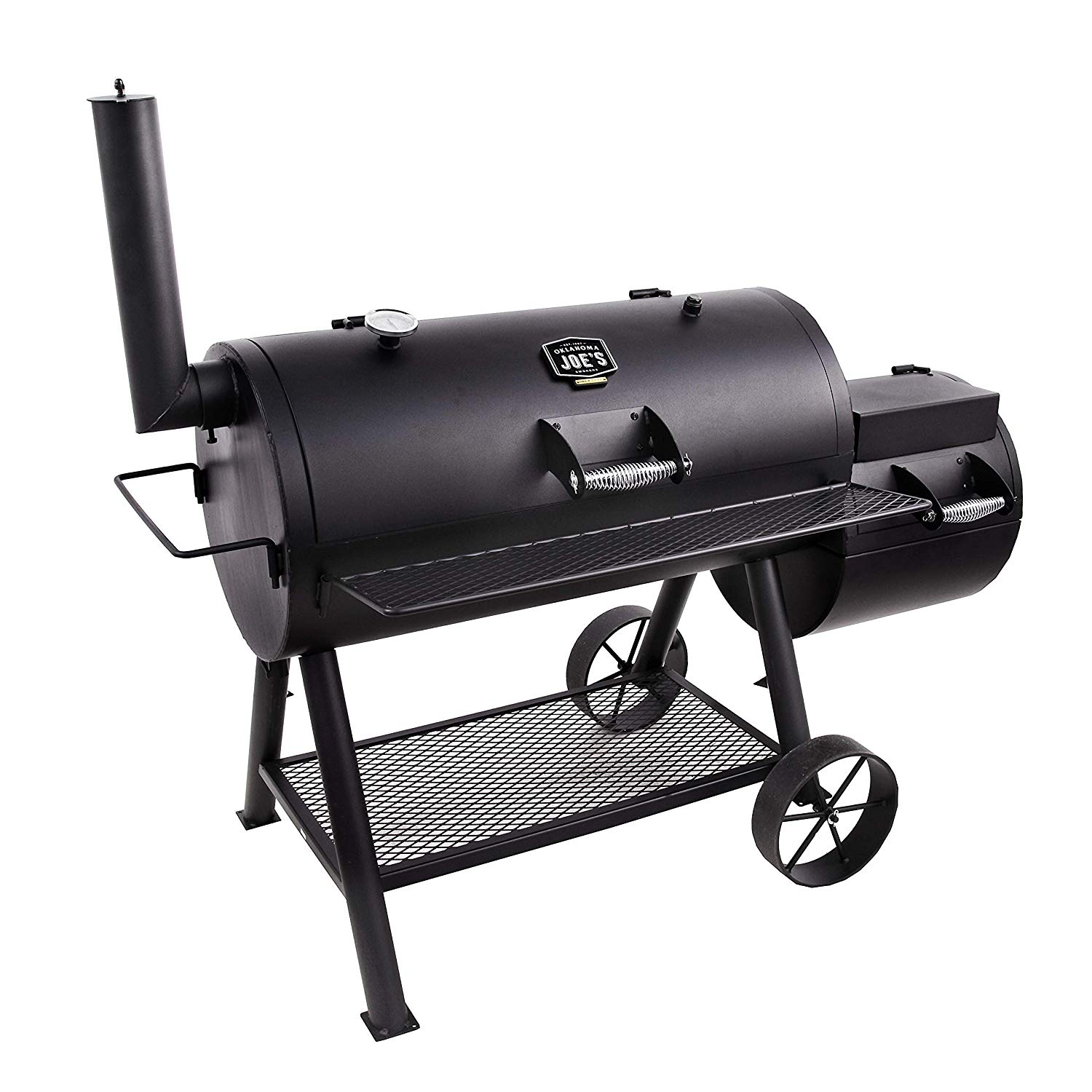 Oklahoma Joe's Longhorn Offset Smoker Review
Large capacity grill
Offset smoker box
Durable material construction
Multiple dampers
Ash cleanout door
Charcoal grills with an offset smoker box are prized for their versatility. You generally can't get a quality barrel grill and a quality smoker for the same cost that you can a two in one like Oklahoma Joe's Longhorn Offset Smoker.
The offset smoker box has an easy access door with a built-in butterfly damper. This helps with easy cleanouts. It also allows you to reload charcoal and wood chips during extended smoking sessions. There are also multiple dampers throughout the grill which allows you to closely control airflow as well as temperature and smoke density.
The entire grill is made from heavy gauge solid steel with a durable powder coat. Still, the connection between the offset smoker box and the main chamber might not be as strong as you'd like. However, there are easy ways to address this.
The heavy-duty cast iron wheels are large and very durable. This really helps if you need to move the grill across uneven ground. The lower shelf also helps tie the legs together for a very firm base.
Construction & Ease of Assembly
Oklahoma Joe's Longhorn grill is made from thick gauge steel with quality welds and fasteners. The only complaint when it comes to build quality is the connection between the offset smoker box and the rest of the grill body. This is a common complaint with many grills in this style. One easy way to make sure the smoker box stays on rock solid is to apply some heat rated silicone to the fasteners that hold it in place. A little lock tight will also help make a long-term secure hold.
When it comes to assembling the grill, it's best to have a partner. This is a large barrel grill, and another pair of hands to hold the other end will certainly help. With some patience and a little mechanical skill, you should be able to fully assemble the Longhorn grill in about two hours.
Grilling Performance
Oklahoma Joe's Longhorn was designed to serve two functions as a grill as well as a smoker. If you just want to use it as a grill, it provides you with 1060 square inches of grill grates space. This is enough to grill up a mess of hamburgers the next time you want to host the family reunion or your fantasy football draft party!
There isn't an upper or warming rack, which is a little bit of a knock on the longhorn. Still, it's large enough that unless you are grilling a massive amount of food, you could simply use half of the 1060 square inch grates as a warming area, with a small pile or no burning charcoal under it.
As a smoker, with a tight connection to the barrel, it works relatively well. The overall size of the barrel can be a little bit too much if you have it fully loaded and you only want the smoke and heat to come from the offset firebox. However, the barrel is still big enough to accommodate two full-size briskets!
If you want to be able to smoke meat above say 225 degrees, you should consider lighting a small charcoal fire inside the main barrel compartment to provide that extra oomph of heat. One other way to get better heat retention in the large barrel is to place rated fire bricks over the grate in the offset smoker box when you first start the fire. After a half an hour or so they will have soaked up a lot of heat. You can then use a stout pair of tongs or a welding glove to move them under the grates in the primary cooking chamber.
Then you can place the meat in the preheated chamber. The bricks will continue to retain and radiate original heat they absorbed as well as helping to keep the barrel chamber at a consistent temperature throughout the smoking session. Just take the extra couple of minutes to wrap them in heavy duty aluminum foil before preheating them. That way you won't have to worry about cleaning drippings off the bricks. Also, make sure to use rated fire bricks and not just a cheap old chimney brick which is prone to cracking and shattering when hot.
Grilling Areas
The 1060 square inches of grilling space offered by the Longhorn is truly impressive and very rarely seen in any competitor grills.
Ease to Clean
Oklahoma Joe's Longhorn Offset Smoker's size means that if you are going to max out it's 1060 square inch capacity as a grill, then you are going to be doing a fair amount of cleanup. Thankfully the heavy-duty cast iron grill grates have been coated with a durable layer of grill grade porcelain. This makes them less prone to food sticking, for easy scraping after a grilling session. If they are very messy, the porcelain layer will prevent rusting in a large bin of soapy water.
The offset firebox comes with an easy access door that helps with removing spent coals and ash after a smoking session. Still, some of the Longhorn's competitors have a fully removable tray that lets you dump out ashes instead of scooping them. But that's a minor complaint.
Soot buildup inside the primary barrel chamber can become a long-term issue. The otherwise accurate thermometer can even become so sooty that it starts to read lower temperatures. Every five or six times you use it, try to give the main barrel lid and the thermometer probe a good scrub with an old rag to release any soot or smoke debris.
Warranty
Oklahoma Joe's Longhorn Offset Smoker comes with a two-year warranty on manufacturer defects and perforations from the original date of sale. It can help speed the process of making a warranty claim if you register your grill within 30-days of buying it.
This is just a little bit less than other grills in the same class and price point, that typically offer a three-year warranty. However, those units are also smaller.
Conclusion
If you are looking for a large capacity grill that can also serve as an offset smoker from time to time, then Oklahoma Joe's Longhorn should be on your list. Just keep in mind that it is more of a grill than a smoker and that you might want to take some extra measures to make sure the smoker box transfer heat and smoke effectively.
Large Charcoal Grill With An Offset Smoker
PROS
Large capacity grill
Offset smoker box
Durable material construction
Multiple dampers
Ash cleanout door
CONS
Limited warranty
No ash pullout tray
Might be too large
Offset smoker might feel a little loose