Northfire INFERNO2G Gourmet Infrared Propane Grill Review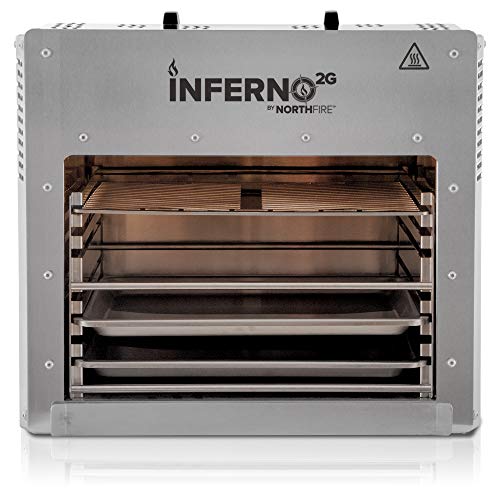 Northfire INFERNO2G Gourmet Infrared Propane Grill Review
1500 degrees of high heat searing
Makes more than just steaks
Propane-infrared heat source
Lightweight and portable
Multiple height settings
Have you ever wondered what makes a Steak house chop an ethereal experience, and a grilled steak just a hot piece of meat? The short answer is The Heat. However, there's a little bit of extra science behind it.
The Maillard process might sound like something a duck does, but really it's a unique type of chemical reaction that occurs in protein-rich substances like meat and other foods. The high heat combines amino acids and natural carbohydrates to make complex, powerful flavor compounds that are very pleasant to the human sense of taste.
The Inferno 2G was designed to produce up to 1500 degrees of heat to impart a superior sear. It comes with two trays and multiple positions to dial in the right height or heat exposure for the food you are cooking. The highest tray is intended to be used as a cooking tray with the lower as a drippings pan. However, there are sometimes when you can cook with both.
The burner element itself uses propane flame, as well as infrared heat emissions to generate such intense heat. This creates a super flavorful sear and a crust that will linger in your mind long after you are done eating.
Construction & Ease of Assembly
The Inferno 2G is largely made from stainless steel. It's been rigorously tested to handle 1500-degree temperatures. Still, the bottom of the unit will get intensely hot. While it can handle something like a wood picnic table, I wouldn't advise a plastic surface or counter. If you need a little extra heat protection for safety, you can buy some fire-rated bricks at a hardware store. In a pinch, a basic pizza stone can help protect any surface you set the Inferno 2G on.
At the current time, the manufacturer does not offer a natural gas conversion kit for the Inferno 2G.
There is little in the way of assembly. With a few basic twists, you should be able to assemble the Inferno 2G in around fifteen minutes.
Grilling Performance
Right off the bat, you have to accept that the Inferno 2G was designed and engineered to be a high heat searing device. It has more in common with a salamander than it does a standard backyard gas grill.
Now that doesn't mean that it is limited to only being a steak broiler. When you rub elbows with a little creative culinary thinking you can really come up with a lot of different things you can prepare with the Inferno 2G.
For instance, you could load it up with some nacho chips, dressed with cheese and a few other basic toppings. The trays are just about the perfect size for a single, fulfilling portion. Flatbreads like Indian Naan and things like crostini are perfectly matched for the quick high heat that the Inferno 2G produces.
You could also use it for some mouthwatering fajitas. Slide a portion of flank or inside skirt steak under the heat for two minutes per side. Then wrap in tinfoil and cover with a clean tea towel. Slide the sliced onions, peppers, and other vegetables in with a light toss of olive oil and a sprinkle of ground cumin. Keep a close eye on them. After a minute or so you'll see them taking on a little color and some browned edges. Pull them out, slice the meat against the grain and you have a great Friday night supper in less than ten minutes!
You can use the Inferno 2G to make pizza. This is so long as you use fresh dough and not a store-bought pizza. To do this you slide the cooking grate in for a minute to preheat it. Pull it out and place the stretched dough down, and back under the heat for 45-seconds or until you see the lightest browning. Lightly oil the top and flip it. Then sauce, and dress with a light amount of cheese or other toppings, and back under the heat until it's bubbling and golden brown!
Let's not overlook the fact that it barely weighs over 50-pounds. This means you can take your high heat cooking adventures on the road. If anything, it gives you the chance to turn some heads and start some conversations at the next tailgate party!
It cooks fast enough that you can prepare multiple batches of the same food in mere minutes. Just put the first steak or chop under a tinfoil tent to rest while you cook the next one.
Grilling Areas
A single tray provides 300 square inches of high heat cooking space. This is enough to handle one big porterhouse steak.
Special Features
The propane-infrared burner element capable of reaching up to 1500 degrees, is not something you find in most grills. Even similar searing appliances and some salamanders can't get this hot. It really opens up your high heat options.
Ease to Clean
The amount of cleanup needed will vary depending on what you make with the Inferno 2G. Obviously, something like a fresh dough pizza, with sloppy sauce and bubbling cheese will make more mess than say a simple all beef frank.
In general, the biggest issue you will run into with cleanup is burned on the material. Foods with a sloppy marinade or sauce applied to them are more likely to caramelize, the stainless steel cooking tray can be taken out and soaked for handwashing. If possible, try to choose things that use spice rubs as opposed to marinades.
Warranty
The Inferno 2G comes with a 1-year warranty on all parts and components. You also need to register the unit within 30 days of purchase for the warranty to be applicable.
Conclusion
You shouldn't think that just because the Inferno 2G is a high heat device, that it's a one-trick-pony. The truth is with a little culinary creativity you can make an awful lot of different foods under the kind of searing heat that is hard to find anywhere else.
Steakhouse searing high heat grill
PROS
1500 degrees of high heat searing
Makes more than just steaks
Propane-infrared heat source
Lightweight and portable
Multiple height settings
CONS
Only a 1-year warranty
No natural gas conversion
The bottom can get a little hot