My Hibachi BBQ HBC1B Outdoor 3-in-1 Propane Grill w/ Teppanyaki Griddle Review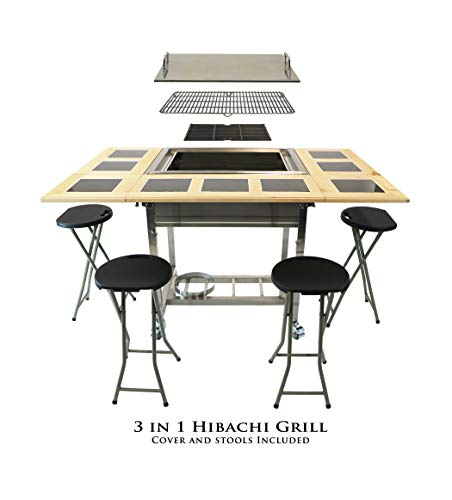 My Hibachi BBQ HBC1B Outdoor 3-in-1 Propane Grill w/ Teppanyaki Griddle Review
3-in-1 versatility as a grill, griddle, and stovetop
Easy to clean
Best-in-class warranty
Great for tableside cooking
These days the avid home cook, and the outdoor chef is more popular than ever before. Many people also enjoy tableside grilling, and the chance to showcase their talents to their dinner guests.
The My Hibachi 3-in-1 Propane Grill w/ Teppanyaki was designed to let people do just this. It can be configured as a grill, a griddle or a stove top. The side tables fold up and out to create dining stations for your dinner guests. It also comes with four collapsible stools.
The My Hibachi was also designed to be portable. The side tables fold flush, the legs collapse, and the stools are easy to transport. This makes it a great option for times when you want to tailgate, or if you need to host a cooking demo at a food festival.
The changeable grill grate is made from 304 stainless steel, as is the griddle top. The two round propane burners in the firebox are made from heavy-duty cast iron. They produce a combined 40,000 BTUs of heat.
The cooktop space has a stainless steel grease channel. It is designed to transfer drippings to the pull-out stainless steel grease trays. Below that there is a large pullout drippings pan, which is designed to catch anything that might escape the tray, as well as any drippings caused when you use it as a grill.
Construction & Ease of Assembly
The My Hibachi was designed to combine innovation with quality. Whenever possible they use stainless steel or heavy-duty cast iron. The fold-out side shelves and dining stations are pretty firm. The corner stations might feel a little wobbly from time to time.
The stools are supposedly rated to handle up to 300-pounds. This might be a little bit of an overestimation. If you have a larger dinner guest, you might want to provide them with a more stable place to sit.
It also comes with a stainless steel cover that is designed to be waterproof. This allows you to leave it outside. Still, If you have a place where you can tuck it away from the rain, it will help preserve the entire until for longer than if it's getting drizzled on all summer long.
The Teppanyaki My Hibachi is relatively complex, with folding, moving, and optional parts. Yet it is surprisingly easy to put together! It weighs in at 200 pounds, so you should plan on recruiting a friend or two to help you with assembly. All told you should be able to fully assemble it in a little over an hour.
Grilling Performance
The My Hibachi Teppanyaki can do a lot of different things depending on how you set it up.
The Teppanyaki  griddle needs a little seasoning to impart it with proper non-stick properties. If you prefer you can use a light amount of cooking spray to help prevent lean cuts of meat from sticking. With a light glaze of butter, it will also make a great batch of pancakes and hash browns. Just give it a good ten minutes to fully preheat, before you use it as a griddle.
When you configure the Teppanyaki My Hibachi as a grill, you can prepare pretty much everything you expect. One minor knock on it in this set up is the round cast iron burner elements tend to make hot and cold spots. If you keep this in mind, you could use the cooler areas as an improvised "Warming Rack."
Food can sometimes stick to the stainless steel grill grate. Lightly greasing it with an oil-soaked paper towel can help minimize this problem.
You can also use it as a cooktop for times when you want to simmer some water or saute some vegetables in a non-stick frying pan.
Technically, the Teppanyaki My Hibachi is designed to be portable. The side tables fold up flush, you can then turn it on its side and collapse the legs, to stow it in the back of an SUV or pickup truck.
Grilling Areas
You will be able to enjoy different cooking spaces depending on how you set it up.
The flat top griddle measures in at 27″ X 20″ for 540 square inches of cooking space.
The grill space measure in at 26″ X 19″ for 494 square inches of direct heat cooking space.
When it is used as a stove top you have 17″ X 12″ or 204 square inches of space for simmering pots and saute pans.
Special Features
In a certain light, the Teppanyaki My Hibachi is a full package of special features that you rarely ever find in other grills.
The folding side tables that also serve as dining stations allow you to do some tableside grilling and cooking demonstrations.
The grease channels and pull out drippings tray makes a very innovative grease management system.
Ease to Clean
The Teppanyaki My Hibachi is surprisingly easy to clean. This is thanks in large part to the grease management system, with it's easy to pull out grease channels and the large drippings tray.
When it's set up as a grill, it's possible for some drippings of a little caramelized marinade to clog a fire port. If this happens you can use a bamboo barbecue skewer to clear it away after you are done cooking.
If you intend to use it as a portable grill, you need to make sure that every component of the grease management system has been drained and cleaned. To properly collapse the legs, you need to turn the Teppanyaki My Hibachi on its side. If there is anything in the grease management system it will run out.
Warranty
The Teppanyaki My Hibachi comes with a lifetime warranty, which is best in class compared to the competition.
Conclusion
If you love tableside grilling or putting on cooking demonstrations, then the Teppanyaki My Hibachi needs to be on your radar. Its 3-in-1 versatility allows you to make the most out of this innovative outdoor cooking station.
Just keep in mind that it can be a little bit sticky at times, and the grease management system needs to be completely clean before packing it out as a portable.
Innovative, Portable Gas Grill For Table Side Cooking And Demonstrations
PROS
3-in-1 versatility as a grill, griddle, and stovetop
Easy to clean
Best-in-class warranty
Great for tableside cooking
CONS
Stools are not as strong as they claim
Hot and cold spots as a grill
Food can stick to griddle and grill grates