Memphis Grills VG0050S4-P Advantage Plus Wood Fire Pellet Smoker w/ Wi-Fi Review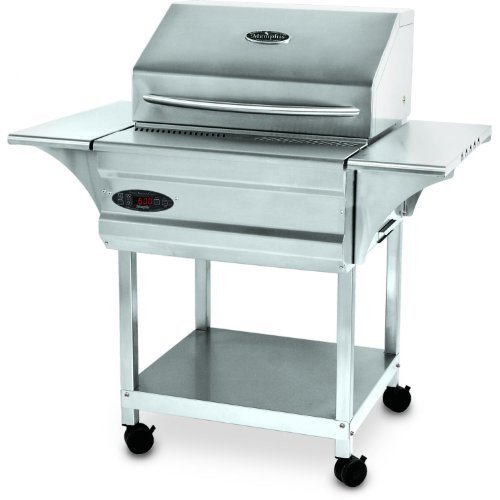 Memphis Grills VG0050S4-P Advantage Plus Wood Fire Pellet Smoker w/ Wi-Fi Review
High-quality design and construction
Incredibly easy to read instructions
Wi-Fi connectivity180 to 600-degree temperature range
Backed by a superior warranty
A high-end grill with the kind of gleam to become a conversation piece can be a key component of hosting a successful cookout. At the same time, wood pellet grills with their easy to use setup, and features are also increasingly popular. Yet most of the wood pellet grills on the market today have all the looks of an old barrel drum turned on its side.
The Memphis Grills line takes the concept of a high-end wood pellet grill and does it some justice. One particular star for the brand is their Advantage Plus Wood Fire Pellet Smoker,
It is made from 430 stainless steel for superior rust and corrosion resistance. It has a carefully disguised wood pellet hopper, with a quiet auger that feeds the pellets into the firebox at a consistent rate.
It has a digital control center that allows you to precisely dial in the time and temperature of the food you want to grill or smoke. If you prefer, it can also be connected via built-in WiFi to your phone or another wireless device. All you have to do is download the app. It is available for both IOS as well as Android.
Construction & Ease of Assembly
Memphis Grill has made every effort to infuse the Advantage with quality materials and good looks. 430 stainless steel has its own special kind of gleam and superior corrosion resistance. Still, it wouldn't hurt to spring the extra money for a grill cover to protect your investment when it's not in use.
In his book Zen and the Art of Motorcycle Maintenance, Robert Pirsig talked about how most instruction manuals for things where some assembly is required, are often drawn up by the least productive person on the assembly line. This has the least impact on the factory's productivity. It also leaves you with a user manual that might as well have been written in hieroglyphics.
Thankfully, Memphis Grills made it a point to put their best person on the job of writing up the instruction. You can tell that extra care was put into making sure everything was spelled out thoughtfully and intelligently. It's the sort of thing that will actually leave you feeling proud of what you have accomplished, instead of merely frustrated and thankful that it's over and done.
Just take your time removing the clear laser film lining. It was placed there to protect the metal when after it left the factory. If you don't get all of it, the film will blister when heated, and look unsightly.
Grilling Performance
The stainless steel grill grates provide a little over 445 square inches of cooking space. This isn't the largest in their line, yet it's still enough to cook an impressive volume of food for say five or six guests. It has a rated temperature range as low as 180 all the way up to 600 degrees Fahrenheit.
At first glance, the 12-pound capacity hopper might seem a little bit on the small side. Still, when you dial in the temperature, the Advantage burns around 1.5 pounds of wood pellet per hour when it's set at 350-degrees. When you dial the temperature down even lower into the 200 to the 250-degree range for smoking things like a pork shoulder, you get an even more efficient burn rate.
The Advantage shines particularly bright with ribs and things like salmon or trout fillets. You can dial down the temperature to just around 225 degrees so that the ribs infuse with smoke until they are tender enough to fall off the bone. Yet they don't try out. It works great for all cuts of pork ribs, as well as riblets, and beef ribs.
If you want to make fish fillets, the digital controller allows you to hold it at a consistent 180 degrees. You can then lay the fillets on a cedar plank that's been soaked in water for 2-3 hours. Test the fillets after half an hour.
The ideal internal temperature is a matter of personal preference, but I find most people prefer a thick, wild-caught Alaskan sockeye in the 140 to 150-degree range. At lower temperatures like this, it maximizes the smoke the Advantage produces. The end result tastes like "Fish Bacon."
The Memphis Grills Advantage also solves the overflow problem with stuffed pork chops. When you use a traditional gas or charcoal grill the rapid, direct heat of the flame causes the meat fibers to contract. This usually squeezes half of the stuffing inside the pork chop out into the flames.
With the Advantage, you can simply stand the chop up on its bone and smoke it at 225 for 25 to 30 minutes. Then test the deepest part of the stuffing pocket with an instant-read meat probe thermometer. Is should be in the 140-degree range. Then turn the heat up to 350.
When it reaches target temperature you can gently lay the pork chop down on the preheated grill grate. Let it sear for 2 minutes. Then turn it 90-degrees and wait for another two minutes. Then gently flip and repeat. Double check with the probe thermometer that the internal temperature is at 165 to 170 degree. This will give you a stuffed pork chop with minimal loss of stuffing, and attractive crosshatch marks.
Grilling Areas
The Memphis Grills Advantage has stainless steel grill grates that provide a little over 445 square inches of cooking space. This is a little on the small side compared to larger units in their line. Yet it is still big enough to make a large brisket flat, or up to three racks of portion-cut spare ribs.
The warming rack on the Advantage is pretty small. To the point where you likely won't use it and might just uninstall it.
Special Features
The digital controller can be linked via WiFi to an app on your phone. Compatible with IOS and Android.
Ease to Clean
The Memphis Grills Advantage is relatively easy to clean. A grill brush with nylon bristles is less likely to scuff the metal grates. Then you can gently scrape down the flavorizer metal sheets under the grates, making sure to move the material toward the grease collection ports.
Then remove the flavorizer and double check the burn pot just to make sure there isn't any buildup. If there is any ash or grease in the burn pot, gently wipe away or collect it. Make sure the igniter port is clear. You can then remove the grease tray and pour it away.
Warranty
Like all grills in this line, the Memphis Grills Elite comes with a seven-year Limited Warranty against defects in material and workmanship. Electrical components carry a three-year replacement warranty when subjected to normal use. The limited warranty does not extend to the fire pot, meat probe, which have a 30-day warranty.
Conclusion
The entire Memphis Grills line of wood pellet grills and smokers carries a reputation for quality design and construction. The Advantage is one of the smaller models, that might be just right for preparing meals for a family of four.
Entry level wood pellet grill
PROS
High-quality design and construction
Incredibly easy to read instructions
Wi-Fi connectivity180 to 600-degree temperature range
Backed by a superior warranty
CONS
Small warming rack
A small wood pellet hopper
Laser film is hard to remove during assembly