Master Cook SRGG41128 Outdoor Gas Grill Review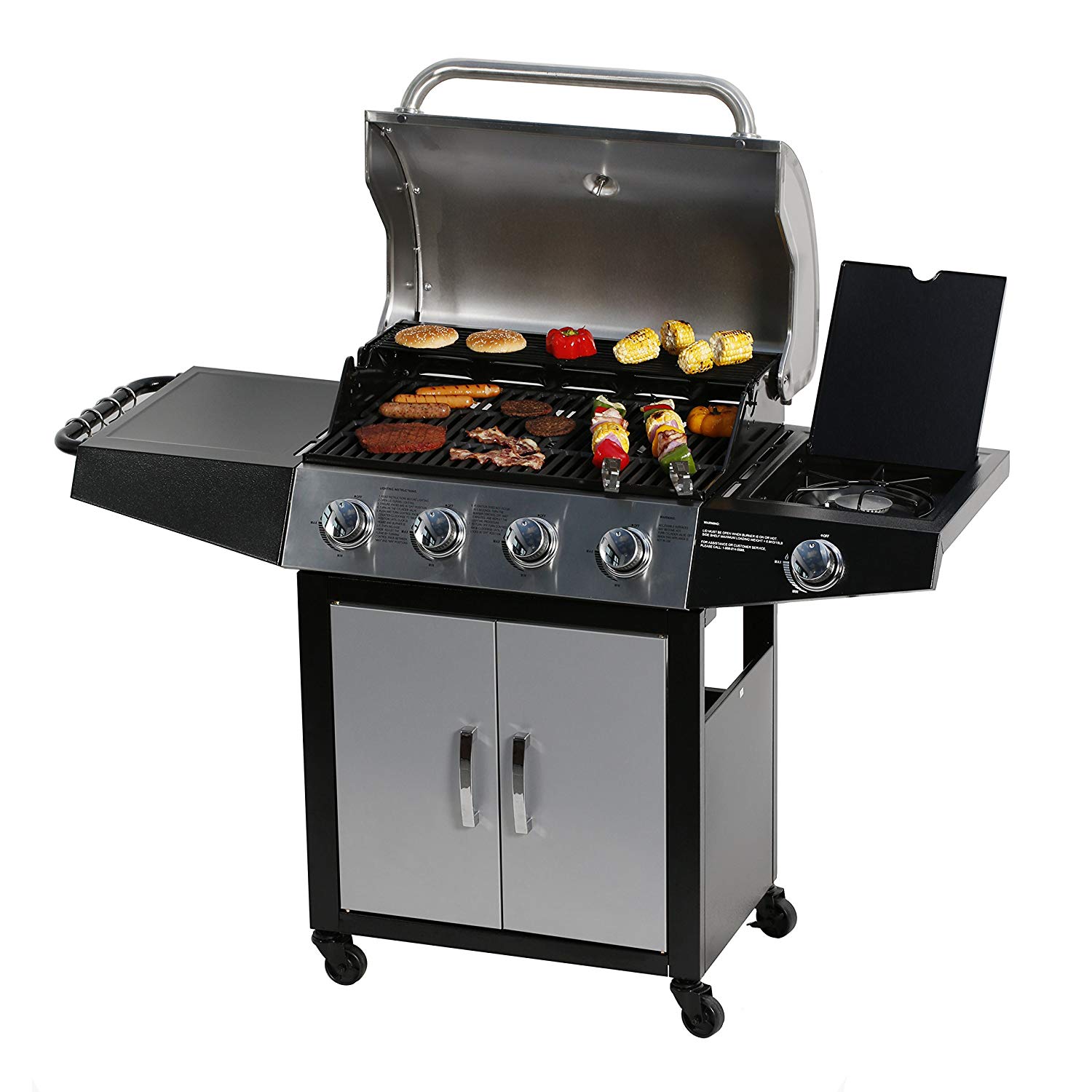 Master Cook SRGG41128 Outdoor Gas Grill Review
Friendly price point
Large enough for a family of four
Convenient side burner
Built-in cabinet storage

$

269.99
1 new from $269.99
in stock
A propane grill sitting on your deck or patio can be a very convenient way to cook an evening meal, or to host a dinner party for friends on the weekend. They are especially handy when it's hot outside and you don't want your stove top range competing with the air conditioner, just to get a bite to eat.
The MASTER COOK SRGG41128 is a 4-burner outdoor propane grill that comes with a flip top side burner with a very friendly price point for its size and quality. It allows you to grill meat and vegetables as well as cook with a pot or a pan on the side burner. These features allow you to prepare an entire meal from your deck or patio.
It comes with four stainless steel propane burners that are lit by an integrated piezo-electric ignition system, which spares you the hassle of a lighter or matches. With all four independently controlled burners set to high the MASTER COOK SRGG41128 can produce 36,000 BTU's of heat in the 400-square inch primary cooking chamber. The flip top side burner is also capable of producing 12,000 BTU's, which is more than enough to boil a large pot of water or for quickly sautéing vegetables.
As a cabinet style grill the MASTER COOK SRGG41128 was designed to be stylish as well as functional. The enclosed two-door cabinet is intended to hold wood chips or a 25-gallon propane tank. However, it is not completely waterproof so it might help to find a plastic tote bin with a lid that will fit in there as well.
The cast iron grill grates have been coated with a special non-stick porcelain layer, and there is a small drippings cup under the firebox that can be accessed from the back or inside the cabinet. The primary grilling area covers a 400 square inches, which is more than enough to grill a meal for your average family of four, or simply having friends over for burgers and brats before the big game.
It's worth keeping in mind that the internal design of the MASTER COOK SRGG41128's firebox does not accommodate a conversion to natural gas and there is not a natural gas conversion kit available. If you have municipally provided natural gas lines it will not be safe to use them with this grill.
Construction & Ease of Assembly
The MASTER COOK SRGG41128 is largely made from stainless steel or powder coated steel. However, there are some plastic components like the knobs and the occasional use of lightweight aluminum. This is the kind of material profile you tend to find with a propane grill in this price range.
One common complaint about the MASTER COOK SRGG41128 is that it is more difficult to assemble than similar gas grills of the same size or in the same price range. Some parts of the assembly process call for manipulating small pieces or fasteners in relatively tight spaces. If you are not mechanically inclined, but you still like this grill, there are online retailers who offer an expert assembly service for a modest fee.
Grilling Performance
The four independently controlled stainless steel propane burners are capable of generating 36,000 BTU's of heat. Yet the MASTER COOK SRGG41128 does have a habit of developing a few hot and cold spots during the preheating process. It's best to give the grill a full 15-minutes to bring the heavy duty grates and the internal temperature up to full capacity before you grill with it. You may need to increase this time if you are grilling at altitude or it is a particularly cold day.
It's also worth noting that the drippings pan is very small and can potentially overflow if you are cooking something with a lot of greasy runoff or excess marinade. You should be able to keep an easy eye on it by opening the cabinet doors or by looking through the panel gap in the rear of the cabinet. The last thing you want is an overflow in the middle of a grilling session.
Grilling Areas
The removable cast iron grill grates for the primary cooking area span 400 square inches. This is more than enough room to make a large number of burgers, steaks, or chicken breasts. The MASTER COOK SRGG41128 also comes with a 118 square inch warming rack to help hold foods over that get done early.
Special Features
The piezo-electric ignition helps you light the grill without the hassle of matches or a lighter.
Ease to Clean
The MASTER COOK SRGG41128 requires many of the basic cleaning measures you would use for a standard propane grill. The porcelain coated cast iron grill grates will need to be scraped free of any stuck-on material. If something won't release after a modest scrub with a nylon or wire grill brush, the grates are easily removed and can be safely soaked in some warm soapy water. The porcelain coating will prevent them from rusting.
The drippings cup is a little on the small side and may need to be changed during a grilling session if you are making something with a lot of excess marinade or a produces a lot of rendered grease. It can also be a little tippy when you first grab it, so make sure you've got a firm hold on the cup before you try to pull it away to empty it.
Conclusion
The MASTER COOK SRGG41128 combines the ease and convenience of an outdoor propane grill with an affordable price point and visual appeal. It does have a few drawbacks. The grill needs to be fully preheated to limit issues with hot and cold spots. The drippings cup needs to have an eye kept on it from time to time. If you're mindful about these issues, then the MASTER COOK SRGG41128 4-burner propane grill might just find an affordable home on your deck or patio.
PROS
Friendly price point
Large enough for a family of four
Convenient side burner
Built-in cabinet storage
CONS
Burners have hot and cold spots
Takes time to fully preheat
Small and wobbly drippings cup
Somewhat difficult to assemble