Lion L75000 32″ Stainless Steel Natural Gas Grill Review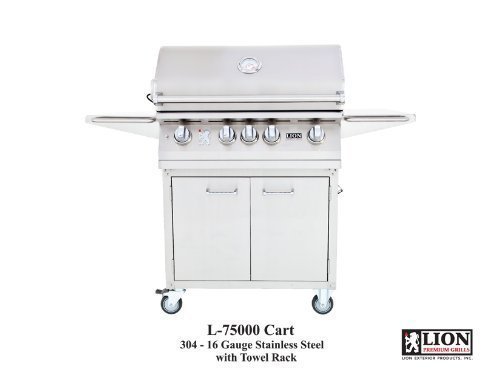 Lion L75000 32″ Stainless Steel Natural Gas Grill Review
Includes rotisserie, griddle, and smoker box
Rear-mounted infrared burner
Stainless steel impressive look

$

2,398.00
7 new from $2,398.00
in stock
These days natural gas grills are very popular. More and more cities are providing lines to homes for a very reasonable cost.
The Lion L75000 32-Inch natural gas grill is made from high quality 304 stainless steel throughout. The is made using double layers and seamlessly welded for maximized heat retention. It has four heavy-duty stainless steel burners as well as a rear infrared burner that works with the included rotisserie.
It comes with two interior lights under the hood. The cart base has two access doors for added storage. This grill also comes with an accessory stainless steel smoker box and a griddle, which isn't something you get with a lot of competitors in this niche. Combined with the included rotisserie is means the L75000 is very versatile.
All the burners are lit by a push knob igniter. Each burner can be independently controlled, which allows you to create two separate temperature zone, or a spectrum of heat from high, and medium to low.
Construction & Ease of Assembly
The Lion Grills L75000 Natural Gas Grill is built almost entirely from heavy duty 304 stainless steel. The stainless steel grill grates are a little on the sticky side. Lion Grills chose this material over porcelainized cast iron to match their brand image.
The gaskets on the knobs don't seal completely. This means that during the course of a long grilling session they can get a little bit hot. Keeping a hot pad nearby can help if you want to do some slow and low grilling or you use the rotisserie.
The assembly process takes a little while longer than you might like. There are some places in the instructions that are very confusing and can trip you up. It's also a very heavy cart-style grill, weighing in at a little over 250 pounds. So, it might help to recruit a friend. With a helping hand, you should be able to get it put together in around an hour and a half to two hours.
Grilling Performance
Natural gas isn't as energetically dense as liquid propane. The stainless steel burners in the L75000 put out enough heat that you won't even notice a difference. Each of them pumps out 15,000 BTU's for a total of 60,000. The infrared burner in the back also produces 15,000 BTUs.
A large broiler-fryer is kind of a tight fit for the rotisserie spit. The legs can start to loosen up as they cook and can catch on the lower grate. If you run into this problem, you might want to try tying them tighter with butcher's twine.
If you use the infrared burner the whole time for the rotisserie you might end up with overcooked skin and an undercooked interior. It might help to start with the infrared for say 20 minutes or so with a dripping pan under it to spare some of the mess. You can then shut it down and turn over to the two central burners set on low heat. This will help cook the bird through.
Once the little button pops out or a probe thermometer reads 160 degrees you can then switch back to the infrared burner for 10 to 15 minutes. This will crisp and darken the skin.
You shouldn't overlook the griddle that comes with the L75000. With a little preheating, it allows you to saute some onions and peppers while you grill steak or chicken for fajitas.
The smoker box is also a nice little touch. You can load it with wood chips to do a little smoking. The end result isn't going to be "Competition Barbecue" but it's still going to have the fire-kissed smoky aroma and flavor you want.
Grilling Areas
The Lion Grills L75000 Natural Gas Grill has an impressive 830 square inches of grill grate space. This gives you enough real estate to grill for six to eight diners at a time.
Special Features
The infrared burner with the rotisserie included is a nice touch. It's not necessarily something that you always find with the competition.
The griddle and smoker box included are also very nice additions that you don't see.
Ease to Clean
When it's set up as a traditional direct heat grill, the Lion Grills L75000 is very easy to clean. The lower drippings pan collects most of the runoff. The grill grates are a little stick and may need a little extra elbow grease to scrape down.
The rotisserie is a little bit messy. Especially if you don't use a dripping pan to collect the rendered fat and other juices that naturally come out of a chicken. The easiest way to deal with this is to place a heavy-duty tinfoil roasting pan under the bird as it turns on the spit. This will collect the juices and keep them from overwhelming the drippings pan.
The grill is made to be dishwasher safe, so that makes cleanup a breeze. The smoker box is also pretty easy to clean. Just make sure all the wood chips are completely out and the box is cold before handling it. Then you can just empty the ashes into a metal bucket and stir in some water.
Warranty
The Lion Grills L75000 Natural Gas Grill has a multi-tiered limited warranty.
Cast stainless steel burners, the stainless steel frame housing, and stainless steel cooking grates all come with a lifetime warranty. The stainless steel flame tamer has a 3-year warranty. The natural gas valves and other components only have 1 year of coverage.
Conclusion
If you are in the market for a versatile natural gas grill, then the L75000 is worth considering. The fact that it comes with a rotisserie, griddle and a smoker box lends it a little more versatility than you get with a lot of competitors in this class.
Just bear in mind that it comes with a few minor flaws. If you are in the middle of a particularly long grilling session, try to remember that the knobs get a little hot!
Versatile Gas Grill With Rotisserie!
PROS
Includes rotisserie, griddle, and smoker box
Rear-mounted infrared burner
Stainless steel impressive look
CONS
Grill grates are sticky
The rotisserie can be a little messy
Small warming rack
Control knobs can get hot