Li Bai Infrared Steak Gas Grill BBQ Broiler Review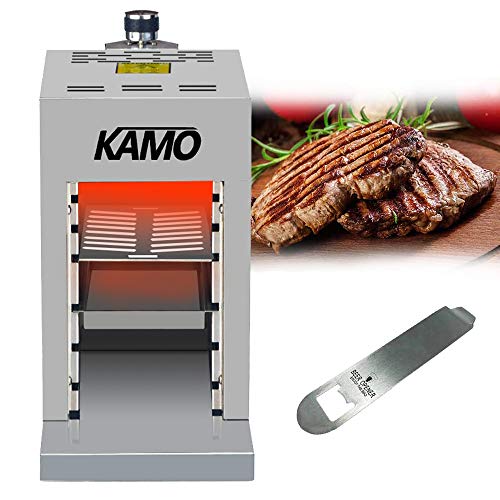 Li Bai Infrared Steak Gas Grill BBQ Broiler Review
Can get over 1,400 degrees
Infrared technology for searing and moisture retention
Stainless steel construction
Easy to clean

$

199.00

$218.50
2 new from $199.00
in stock
High-end professional steakhouses used to rely on incredibly hot broilers to sear their steaks and lock in juices. In recent years, the emergence of infrared cooking technology has led to more and more of these eating establishments to make sweeping changes.
The Li Bai Infrared Steak Grill by Kamo is a relative newcomer to the infrared grilling niche. They borrow many of their technology and styling cues from competitors yet offer the Li Bai at a less expensive price point. It's made from commercial grade stainless steel. Yet many of the removable components are dishwasher safe. This includes the relatively large dripping pan.
This grill comes with a regulator and propane hose. The underlying flame powers a special infrared heating element. When it's allowed to fully preheat, the Li Bai has been rated to produce a staggering 800 degrees Celsius or 1,472 degrees Fahrenheit.
Construction & Ease of Assembly
With 430 and 304 stainless steel construction as well as straight forward design have helped Kamo to offer the Li Bai Infrared Steak Grill at a very friendly price point. You might be tempted to think that they've cut corners to do this. Yet if you take a closer look, it has pretty much all the quality components in the places you want them.
The regulator is a little simplistic. The propane hose is a little on the short side. Still, these foibles are minor and if you wanted to buy a higher quality hose and regulator it wouldn't cost much.
The assembly process is relatively simple. You mostly just need to unpack the grill and install the components into their intended slots. It shouldn't take you more than half an hour. Double-check the coupler connection on the propane line to make sure it's seated firmly.
Grilling Performance
The science behind infrared technology works and plays well with pieces of meat that take well to searing. Steak, chops, kebabs, and fish fillets get just the right level of sear from the over 1,400 degrees of heat this grill generates.
At the same time, infrared heat cooks differently than direct flame. It tends to affect the interior of the meat while preserving the exterior moisture barrier. This means that the Li Bai imparts a perfect sear, while also maintaining the internal juices. The end result is Steak and chops that rival those coming out of a high-end professional steakhouse.
Just don't let this give you the impression that the Li Bai is only for steak and chops. Anything that benefits from direct heat can be elevated to the next level by this compact infrared grill. This lends toward hamburger patties, natural casing sausages, and seafood. However, a fresh crust pizza is also at home here. The Li Bai can do pretty much anything a salamander can do.
The trick here is to make sure that you fully preheat the Li Bai for at least five, preferably ten minutes before placing the meat.
This grill is a little bit on the small side when it comes to the total volume of food you need to cook at one time. If you need to sear up multiple steaks or hamburger patties, you might want to keep a heavy-duty aluminum foil pouch close at hand.
It only weighs in at 20-pounds, which means you can easily use it as a portable grill.
Grilling Areas
The Lai Bai Comes with a single 66 square inch grill grate and a matching drippings pan. Which is enough to grill a single steak at a time.
However, there are multiple slots available, and there are some aftermarket options for matching grill grates.
Special Features
The infrared heating element and the fact that the Li Bai can get over 1,400 degrees, gives you the ability to cook high-heat dishes with ease.
Ease to Clean
The drippings pan under the primary grill grate spans the entire bottom. This goes a long way toward preserving a clean grill bottom. Just keep in mind that there is a fine line between just how far below you set the drippings pan. If you remove a piece of meat from the grill grate and the drippings pan is in its high position, the juices could caramelize making it harder to clean.
The grill grate is stainless steel, which could be a little sticky when you grill lean cuts of meat. Scraping it down with a stiff nylon grill brush will help prevent excess scuff marks.
Kamo notes that the stainless steel components are dishwasher safe. Just make sure to dry any stray drips as soon as possible with a clean paper towel. This will prevent long-term discoloration concerns.
Warranty
The Kamo Li Bai Infrared Steak Grill is backed by a 6-month warranty. This is a little bit less than its direct competitors in this price range, who tend to offer a one-year warranty. Many of the higher-end units in this niche offer a three-year warranty, though this is also represented at a much higher price.
Conclusion
If you have a limited budget, but you still want to try your hand at the intense high heat grilling offered by infrared technology, then the Kamo Li Bai might be the right entry-level unit for you. It's pretty easy to use, and you can certainly make a single steak or a pair of pork chops at one time.
Just like other high heat infrared grills, it struggles to handle low heat applications. It isn't the sort of thing you want to turn to if you want to grill bone-in chicken breasts. Still, you can make a great single-serving pizza or some seafood. So, it isn't necessarily a one-trick pony.
It would be nice if they backed it with more than a 6-month warranty. Though it is a good buy for the friendly price tag.
Low Price Infrared Steakhouse Grill
PROS
Can get over 1,400 degrees
Infrared technology for searing and moisture retention
Stainless steel construction
Easy to clean
CONS
Doesn't do low temperatures well
Small grilling grate
Only a 6-month warranty