Gourmia GBQ330 Portable Charcoal Electric BBQ Grill Review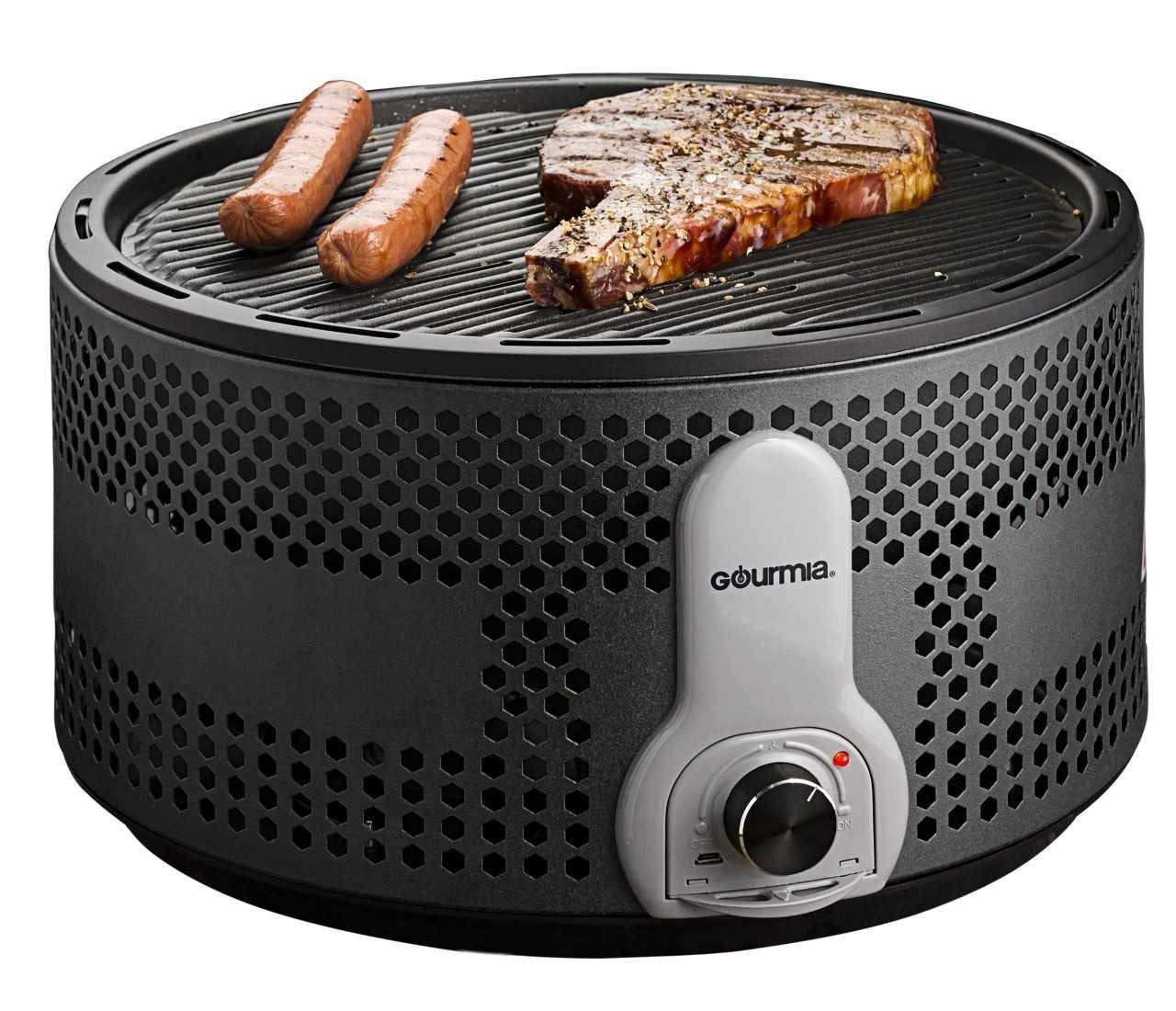 Gourmia GBQ330 Portable Charcoal Electric BBQ Grill Review
Very portable and convenient to use
Doesn't require an electric outlet
Smoky charcoal flavor
Quality components for the price
Being able to grill while you are on the go is appealing for a lot of outdoor cooks. It's especially nice if you need some way to grill food while you are camping, tailgating, or just want to have some hot dogs to eat while you are enjoying a day at the beach.
Of course, choices can be kind of limited. A plug-in electric grill might not always have power available, which just turns it into an ingloriously designed boat anchor. Gas grills are popular in the portable grill niche, but they don't really deliver the kind of charcoal flavor that so many grilling purists love. At the same time, many parks, tailgate areas, and even public beaches have started banning open flame charcoal grills.
The Gourmia GBQ330 Portable Charcoal Electric BBQ Grill manages to strangely fit into a niche that no many people knew existed. The primary fire source is a small, internally contained charcoal fire bowl that can hold around 5 or 6 charcoal briquettes. An ignition plate starts the fire and then a battery powered internal fan feeds air to the charcoal fire. As you adjust the setting the airflow to the charcoal changes, which allows you to increase or decrease the heat, with some relative precision.
The Gourmia GBQ330 Portable Charcoal Electric BBQ Grill even comes with its own special travel case and a free pair of tongs. It weighs in at just over seven pounds, which makes it very easy to take with you just about anywhere you want to grill.
Construction & Ease of Assembly
The Gourmia GBQ330 Portable Charcoal Electric BBQ Grill requires very little in the way of assembly. Once you take it out of the packaging and you familiarize yourself with the parts you should be able to put it together in under half an hour.
There might be a few questions when it comes to overall quality, depending on what you want to use this little grill for and just how often you intend to use it. With only an 11.8-inch grill top and a small battery powered fan, you really shouldn't think of this as the feature grill that will live on your deck, grilling up your weekday meals. It is meant to be more the sort of compact portable grill you can take with you for a week-long camping vacation or taking it with you to tailgate the big game each weekend.
When taken in that context the Gourmia GBQ330 Portable Charcoal Electric BBQ Grill, uses quality components compared to say buying three or four disposable grills. It will also use less charcoal throughout its lifespan. The cast iron grill top is a nice touch that speaks to the unit's value.
Grilling Performance
The charcoal bowl in the internal fire chamber is relatively small. With the "Turbo" fan cranked up to its maximum setting it will create a decent sear on a hamburger patty or a bratwurst. Still, you shouldn't expect to be able to make a steakhouse sear on a ribeye with it. It does work very nice for grilling up vegetables and things like boneless, skinless chicken breasts, chicken tenderloins, and shrimp that's been glazed with garlic butter.
If you want to maximize the heat, for a short-term burn, you might want to try using some jumbo lump charcoal. Then let the fan feed the fire and preheat the cast iron grill grate. Cast iron's prize property in grills is its ability to soak up a lot of heat. So, don't rush to put food on until the grill top has come up to the maximum temperature.
One problem with this grill is that there is no real way to smother the fire. While the small charcoal bowl means it will likely burn itself out, you don't really have a designed way to put it out if you need to say load up the car in a hurry. Of course, the last thing you want to do is put a burning or even a hot grill in the carrying case and slam it in the trunk of your car.
Your only real option here is to keep a welding glove in the carrying case. You can then take the grill top off safely, to access the charcoal bowl. The burning embers can then be dumped into a metal bucket or a bucket of water. You should never put water into the charcoal bowl as wet ash encourages corrosion.
Something else to keep in mind for apartment dwellers is that the Gourmia GBQ330 still counts as a charcoal grill when it comes to your lease agreement and renter's insurance. While it does make less smoke than you'd think, and Gourmia even claim that it's 90% smokeless, you will still get enough smoke to trip a fire alarm. It simply isn't designed to be a real indoor grill.
Grilling Areas
The Gourmia GBQ330 has an 11.8-inch diameter grill top. This gives you around 37 square inches of grill space to work with. However, you will likely find that it's hotter toward the center where the fire bowl is, and since there isn't much of a lip at the rim, you risk roll-off problems with something round like a hotdog.
Special Features
The battery-powered fan helps maximize airflow and heat control. It runs on four AA batteries that can run down on power without you noticing it at first. So be sure to keep some spares with the travel kit, as the charcoal fire by itself is relatively weak.
Ease to Clean
The Gourmia GBQ330 Portable Charcoal Electric BBQ Grill is relatively easy to clean. The cast iron grill grates can be gently scraped down with a nylon grill brush or they can be wiped down with a wet sponge.
Disposing of the charcoal is relatively easy since it's such a small amount. If you grilled something fatty or that had a lot of excess marinades the second level of the grill will need to be wiped down. This can be a little bit of a hassle, but a little warm soapy water soaked into a sponge and some patience should get the job done.
Warranty
The Gourmia GBQ330 Portable grill comes with a 1-year limited warranty.
Conclusion
If you are looking for a portable grill that packs away easily yet still give you the smoke, flavor, and aroma of charcoal grilled food, the Gourmia GBQ330 has a lot to offer. It certainly exceeds the flimsy quality you get in disposable grills and will outmatch their value in the long-term.
Just don't expect this to be your go-to daily griller. Think of it more as your portable grill that you can take with you on the go, and maybe host the occasional Korean Barbecue gathering on your patio table.
Efficient Electric And Charcoal Portable Grill
PROS
Very portable and convenient to use
Doesn't require an electric outlet
Smoky charcoal flavor
Quality components for the price
CONS
Not a good source of high heat
Needs proper preheating
No way to suffocate the coals