George Foreman GBR5750SEPQ 7-in-1 Electric Indoor Grill Broiler, Panini Press, & Waffle Maker Review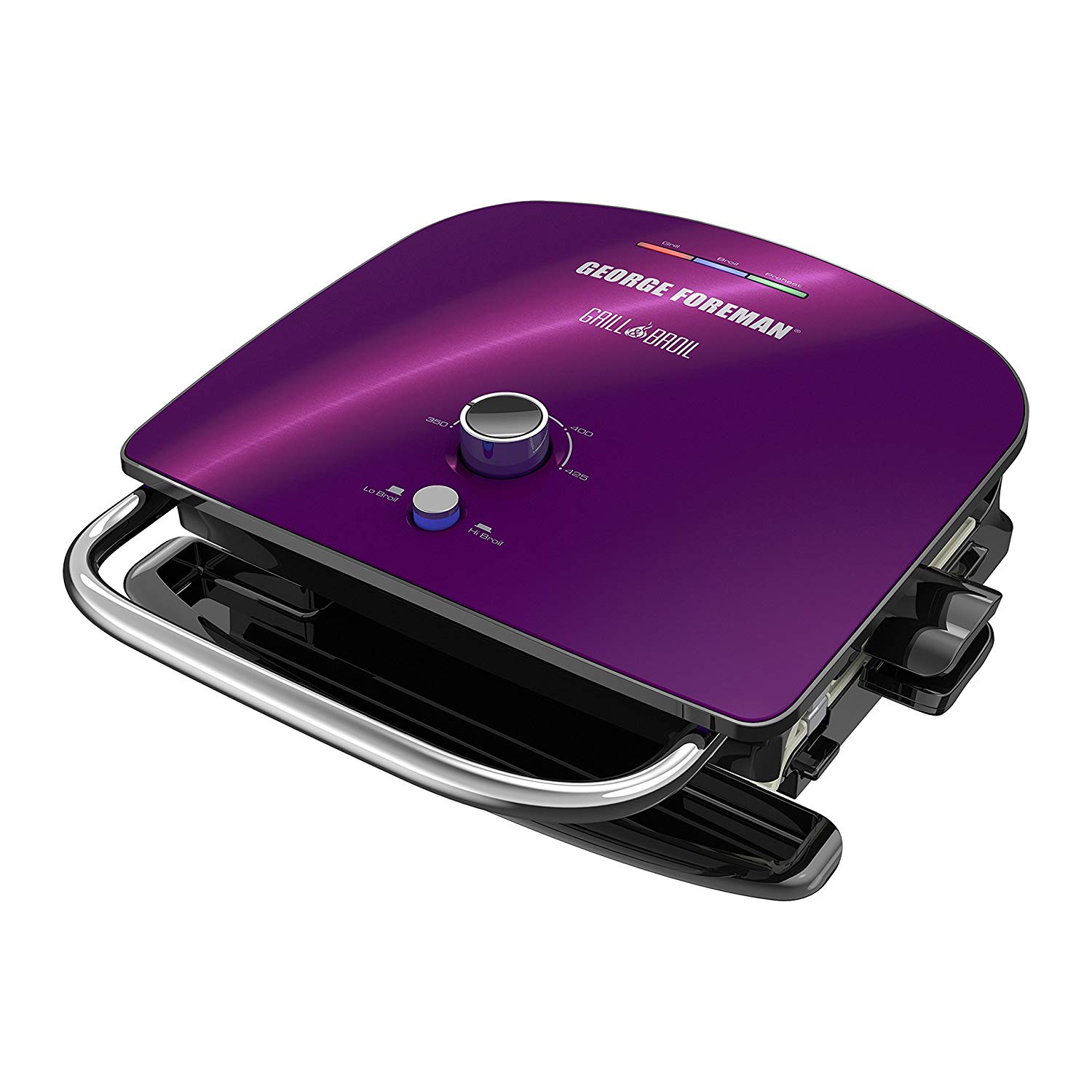 George Foreman GBR5750SEPQ 7-in-1 Electric Indoor Grill Broiler, Panini Press, & Waffle Maker Review
Affordable
Easy to Clean
Includes waffle and griddle plates
Multi-functional
Uses nonstick porcelain instead of low-grade Teflon
Electric grills first found their claim to fame when good old George Foreman attached his name to the earliest clamshell grills. At that time they were an amazing innovation that could replicate the flavors of a grill and griddle, while also being able to release more than a fair amount of unhealthy grease.
Since that time electric grills have continued to evolve, and the George Foreman line of cooking appliances has evolved right along with them. Today the most popular indoor electric grills are prized for their ability to play multiple functions. These multi-functional units like the George Foreman 7-in-1 GBR5750SEPQ Electric Indoor Grill can serve as a grill, a high-quality panini press, a broiler, a griddle, a waffle maker and more!
Staying true to their niche, the George Foreman 7-in-1 Electric Indoor Grill comes with interchangeable plates. This allows you to make nice grill marks when you want them, or to use it as a flat top griddle, as well as a high-quality square waffle maker.
Construction & Ease of Assembly
When it comes to construction and assembly the George Foreman 7-in-1 Electric Indoor Grill is made from relatively high-quality components. There are times when the hinges do feel a little loose, but I suspect this is intentional, to allow for grilling thicker cuts of meat or a-symmetrical things like a bone-in chicken breast.
If there is one area to complain it might be the thickness of the grill plates. On the one hand, it's meant to help the grill heat up quickly. Yet it also means there's less mass available to absorb the thermal load. This means it is going to struggle to give you a Steak house sear.
However, the rest of the components are relatively high quality. Especially when you consider the very friendly price point that you don't find with many other multi-function grills in this class.
When it comes to assembly. There is little required after you remove it from the box. Changing out the plates is relatively easy and shouldn't take you more than a minute or two. Just make sure to store any plates away safely when they are not being used. You don't want to damage or scratch the nonstick porcelain coating.
It's worth noting that the George Foreman 7-in-1 doesn't use Teflon for its non-stick coating. This might seem like a small thing at first. Yet new research is starting to shed light on chemical transfer problems with polymers like Teflon at higher temperatures. With the George Foreman 7-in-1 that the cooking plates are free of PTFE and PFOA
Grilling Performance
With its friendly price point and the fact that the George Foreman 7-in-1 can do so many things, it makes it a pretty good value. However, there are a few peccadillos that you may need to keep in mind to really get the most out of it.
The grilling plates are a little on the thin side, and the overall cooking space is a little bit small. You shouldn't really think of this as something you will use to grill up a thick bone-in steak. It just doesn't have the thermal load capacity that you would get from a thick metal cooking plate in close contact with a nichrome electric element.
However, where it really shines is in making component dishes like fajitas, club sandwiches, panini sandwiches, and even quesadillas. Just make sure to give it a good seven to ten minutes to really preheat to its maximum temperature.
Being able to swap out the cooking plates is also very nice, and not something that you really see all too often with competitor grills in this same price point. Even the ones that do offer an accessory waffle plate, charge you quite a bit extra for it as an additional purchase. Yet the George Foreman 7-in-1 comes with the waffle plate as well as flat cooking plates for doing things like frying bacon to add to a club sandwich.
When it comes to making waffles, there are a few things to keep in mind. First of all, you need to fully preheat the waffle plates, if you really want to get the sort of crisp edges and corners that make the difference between a great waffle you enjoy and something with the texture of a soggy old flip flop.
You also need to go the whole nine yards with the waffle batter. If you try to shortcut with pancake batter, you will end up with something a little bit soft. Make sure to find a recipe for a true waffle batter.
Also lubricating the waffle plates will help, especially if you use the porcelain coated surface a lot, or it gets a little abused over time. You can put butter on the lower waffle plate, but it won't really cling to the top. For this, it's better to use an aerosol spray canola oil. Keep a silicone spatula or even a pair of wooden chopsticks nearby to help you release a waffle that sticks.
Grilling Areas
The George Foreman 7-in-1 certainly isn't the larges tabletop electric grill on the market. However, you can still produce a fair amount of food, sandwiches, and quesadillas on it's 75 square inch cook grate. Just don't plan to produce a meal for a family of four with it.
Special Features
The George Foreman 7-in-1 is a true multi-function grill. Its special hinges allow you to transform it into a griddle, a contact grill, clamshell, waffle maker, panini press, waffle iron and more.
Ease to Clean
There's typically not a lot of cleanup with an electric grill like this. The dripping tray is easily removed to be drained away in minutes. The various cooking plates are also relatively easy to remove if you need to soak them in water to release some stuck-on material. They are also rated to be dishwasher safe. Just make sure the entire unit has cooled down first.
Warranty
The George Foreman GBR5750SEPQ 7-in-1 Indoor Electric Grill comes with a three-year limited warranty on any defect in material or workmanship. There are also some online retailers who offer three and four-year protection plans for a very affordable rate.
Conclusion
Consumers are spoiled for choice when it comes to indoor electric grills. If you want to measure price versus versatility, then the George Foreman 7-in-1 should certainly make the list. Especially when you consider the high-quality porcelain coated cooking plates, that bypass the chemical concerns that come with Teflon coating. Just make sure to let it preheat, and don't expect it to be able to create a steakhouse sear!
Affordable Yet Versatile Indoor Electric Grill
PROS
Affordable
Easy to Clean
Includes waffle and griddle plates
Multi-functional
Uses nonstick porcelain instead of low-grade Teflon
CONS
Thin metal for plates
Needs sufficient preheating
Somewhat small