Emson 8303MO Indoor Pressure Smoker Review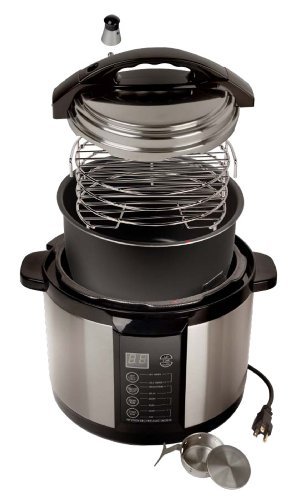 Emson 8303MO Indoor Pressure Smoker Review
Pressure cooks meat in nearly half the time
Deep smoke penetration
Cold smoke settings
Stainless steel construction
Uses very little smoking wood
Backed by a two-year warranty
Indoor pressure cookers have been popular for many years. The effects of increasing the psi inside the sealed cooking chamber effectively accelerate the cooking process, while also helping to tenderize tougher cuts of meat.
Emson takes this a step further by including a special smoking component to create an "Indoor Pressure Smoker." It seals like a pressure cooker device and uses only a small amount of wood to produce smoke. The internal pressure essentially drives the smoke into the meat penetrating it just as deep or deeper than you get from a traditional wood smoker.
It features stainless steel construction, which makes it look sleek on your counter. There are digital controls that allow you to dial in the precise temperature you want. It includes a special "Cold Smoking" setting which allows you to smoke things like fish, shell-on shrimp, vegetables, and even medium-firm cheese!
Construction & Ease of Assembly
The Emson indoor pressure smoker is largely made from stainless steel with stainless steel internal components. However, there are some plastic parts here and there.
The digital controls are rather sophisticated, which allows you to do things like cold smoke food items. However, they can also be a little fickle. If the interior isn't completely clean, or a sensor has something stuck on it, you will get a frustrating error code. When this happens, you need to meticulously clean the unit. Then unplug it, wait two or three minutes, plug it in and start again.
There's very little in the way of assembly. It's more like "Unpacking" and setting it up. Take your time double-checking the components to make sure they are installed in the cooking chamber properly. Of course, like any indoor cooking appliance, you should give it a light initial cleaning before using it for the first time.
It's also worth noting that the overall footprint is small. It measures in at a little over 13-inches in external diameter, and just over 12-inches high. This means it can live comfortably on your counter, or stores away easily in a cabinet.
Grilling Performance
The Emson indoor pressure smoker is a little unique in that it's a pressure cooking with a true smoking component. A lot of the competitors in this niche are essentially pressure cookers that you add chemical, liquid smoke to.
This device uses a small number of wood chips (Which you need to purchase separately) to impart the smoke component. With most smoking sessions you can get by with half a handful of wood chips.
The +15psi inside the cooking chamber helps the smoke to penetrate the meat. You don't get the same traditional "Smoke Ring" that you do from meat made in a barbecue pit, but you still notice the flavor. The pressure also accelerates the cooking time, which means you can get a tender piece of meat in almost half the time.
The "Cold Smoke" setting is where it really starts to set itself apart. It makes great smoked peppers and shell-on shrimp. It can even handle medium-firm cheeses like mozzarella. Just don't overdo it. The more moisture and fat there is in a piece of food, the stronger the smoky flavor will be. It's best to start out with light smoking sessions and dial-up from there.
The texture of soft flesh fish, like farm-raised salmon and trout is a little different than what you get from a traditional smoker. This can be a personal preference thing. At the same time, the pressure cooker factor of it does a great job with firm-fleshed fish and rough fish. If you are a fan of smoked carp, you might find the Emson does a better job than a traditional smoker.
Grilling Areas
The Emson indoor pressure smoker is rated to handle 4 pounds of food. If you cut it down into two to three rib portions, you could maybe make a full rack of pork spareribs.
Special Features
This appliance is sort of its own special feature. The digital controls are certainly nice and allow you to cold smoke which is something you don't find in traditional smokers with much higher price tags.
Ease to Clean
On paper, the Emson indoor pressure smoker is easy to clean. However, the sensors that coordinate with the digital controls can be finicky if the unit isn't meticulously clean. This can cause the controls to give you an error message, which won't clear until the offending area is cleaned, and the unit is restarted.
Take your time to clean every nook and cranny. This includes hand washing the stainless steel parts and then immediately drying them with a clean tea towel. If something needs to be scraped off a grate, you can use a firm nylon grill brush to release it.
If you need to wipe down some gunk on the internal cooking chamber, you should try a lightly abrasive, or non-abrasive sponge. Especially, if the offending gunk is on a sensor component.
Warranty
The Emson indoor pressure smoker comes with a two-year limited warranty. This is about on par or even a little better than you find in similar pressure cooker appliances.
Conclusion
If you live in an apartment or a community where outdoor grilling and smoking isn't allowed, the Emson indoor pressure smoker can help scratch the itch for barbecue. It's especially nice if your area gets a hard winter and you want to enjoy some barbecue ribs.
Just keep in mind that it doesn't have the capacity to handle enough food for a traditional cookout. It's meant more to make a smoky barbecue supper for two or three people.
Cleaning is especially important, as stuck-on gunk and residue can affect the sensitive digital controls, which can cause a frustrating error message.
Innovative Indoor Pressure Smoker
PROS
Pressure cooks meat in nearly half the time
Deep smoke penetration
Cold smoke settings
Stainless steel construction
Uses very little smoking wood
Backed by a two-year warranty
CONS
Needs meticulous cleaning
Can suffer from error messages
Maximum 4-pound capacity