Chicago Brick Oven Americano CBO-O-STD-AMR Wood-Fired Outdoor Pizza Oven With Stand Review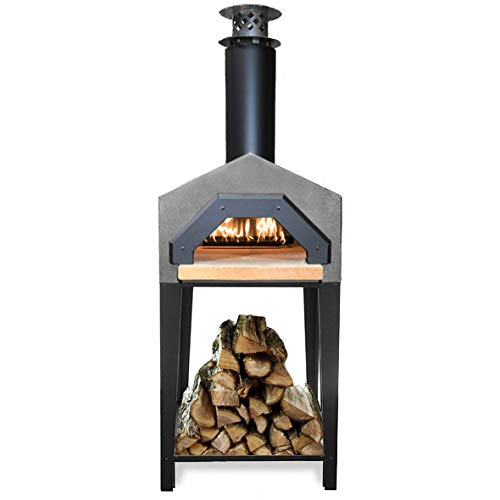 Chicago Brick Oven Americano CBO-O-STD-AMR Wood-Fired Outdoor Pizza Oven With Stand Review
Small yet capable of high heat
True wood-fired pizza oven
Small footprint on a patio
Backed by a good warranty
UL and NS4 rated for safety
Wood fired pizza ovens tend to be rather large. This is mostly due to the amount of mass needed to absorb and refract heat at the kind of high temperatures that replicate a classic Italian pizza oven. Many sort-of persuade you to upgrade your humble patio grilling station into a full-blown outdoor kitchen.
To go smaller, you need to move into hybrid pizza ovens that largely rely on propane or natural gas. You toss a little bit of hardwood on it for effect and try to tell yourself that you can't even notice the gas flavor in the melted cheese.
Chicago Brick Oven is an American-based company that understands there is a niche out there that hasn't been properly filled. Oh sure, they have some real whopper wood-fired ovens in their line. Yet they also offer stylish, smaller pizza ovens like the CBO 750 which is configured with a stand as the CBO-O-STD-AMR Americano.
This pizza oven is certified to UL and NSF4 safety standards. It is based on the Chicago Brick Oven's proprietary synthesis of heat refractory materials that are reinforced with stainless steel. It allows the pizza oven to absorb heat energy like a much larger wood-fired pizza oven, without having to be so large that it completely dominates the patio.
The Americano's stand might not raise an eyebrow if you are new to the outdoor pizza oven niche. Yet most of it's larger competitors require you to build it into some type of outdoor kitchen. This usually calls for contractors, additional construction materials, and maybe even a few building permits. The Americano bypasses all of this additional headache with its very sturdy heavy duty stand.
Construction & Ease of Assembly
Chicago Brick Ovens hang their hat on their proprietary blend of heat-absorbing refractory materials with stainless steel reinforcement. They keep their cards close to the vest on the particular engineering details involved. Suffice to say the Americano has the ability to absorb the heat you want, with the durability to give you a nice long-term return on your investment.
There is some assembly required, and even though it is a small, compact oven, the Americano still rings it at a little over 350 pounds. This is the sort of thing where you might want to recruit a friend or two to help you put it together. Just promise them some mind-blowing free pizza as a reward. With a couple of capable hands, you should be able to have the Americano fully put together in about two hours.
Grilling Performance
Preheating starts with a full flame in the rear of the chamber. While it is technically a "Wood Fired" pizza oven, there's nothing that says you can't use charcoal. I personally think that a careful blend of quality briquettes and jumbo lump charcoal makes for a more consistent fire.
There are a few things you can do to maximize your results. In general, charcoal burns up faster than natural hardwood. Keeping this in mind, you should start a full chimney of briquettes. When they are fully lit, dump them in the back. Wearing a welding glove will spare you from burning your fingers.
Let them burn for a solid 20 minutes, with the flue on full and the door cracked. This will generate most of the heat you need to properly warm the heat refracting materials. At that point, you should add half of a charcoal chimney of jumbo lump charcoal, directly to the fire. Lump tends to burn hotter and faster, which will help keep the air in the baking chamber rocket-hot.
It should take around 5 to 7 minutes for the lump charcoal to fully ignite. You can check the surface temperature with the infrared thermometer. Technically, the Chicago pizza oven is rated to handle temperature up to 1,000 degrees, but that's ludicrous. All you really need is a floor temperature over 500 degrees and a similar range in the walls. This is more than enough contact and refractory heat to bake a fresh dough pizza in around 5 to 7 minutes. The higher the temp, the faster the pizza will bake.
One minor thing to consider is stray pieces of ash or other debris on the floor of the oven. This stuff loves to stick to the bottom of the pizza crust.
One way to keep from getting a surprise random crunchy bit in your mouth is to use two platters. Cover the first with a terrycloth towel. When you first take the pizza out, slide it from the peel to the terrycloth platter. Then give it a quarter turn, and gently slide it onto the second platter to be cut. This is a trick you see in a lot of authentic pizza restaurants in Italy, and it should leave you with a reasonably clean bottom crust.
Grilling Areas
The Americano has 675 square inches of cooking space on the baking chamber floor. If you are a master of food placement you might be able to get a pair of 12-inch pizzas in it. Though personally, I would recommend limiting it to one perfectly-fit 14-inch pie.
Special Features
I know on the face of it, the stand with its little wood or charcoal storage shelf doesn't seem like it's really a special feature. Still, it's hard to find another truly wood-fired pizza oven in this size and price range that also includes a stand.
Ease to Clean
Cleaning the excess ash from the rear of the baking oven, without contaminating the walls and floor with ash and little bits of spent embers can be a little tricky with the Americano.
There are a few ways to deal with this. The first is to get a long handled ash scoop like you would find anywhere that sells wood stoves and fireplaces. This is a little awkward, and you will eventually spill some on the oven floor.
What I think might be a better option is to buy a narrow piece of sheet tin, or simply cut down a larger one to just the right width as the pizza oven's door. Then you can slide it all the way up to the ash pile. This essentially protects the surface from contact with the ash when you scoop or sweep it.
Warranty
The Chicago Brick Oven Americano comes with a three-year warranty.
Conclusion
If you want a high-quality wood fire pizza oven that doesn't take up your entire patio, the Chicago Brick Oven Americano should be on your radar. Despite being small it does a great job of refracting heat. Even after you are done baking pizza, there will be enough lingering heat to bake other things like oatmeal cookies, or even a curiously smoky apple pie.
Safety rated wood fired outdoor pizza oven with a small footprint
PROS
Small yet capable of high heat
True wood-fired pizza oven
Small footprint on a patio
Backed by a good warranty
UL and NS4 rated for safety
CONS
Need to be conscious of ash
The door is a little small
Awkward to make two pizzas at once