Char-Broil Portable CB500X Charcoal Grill Review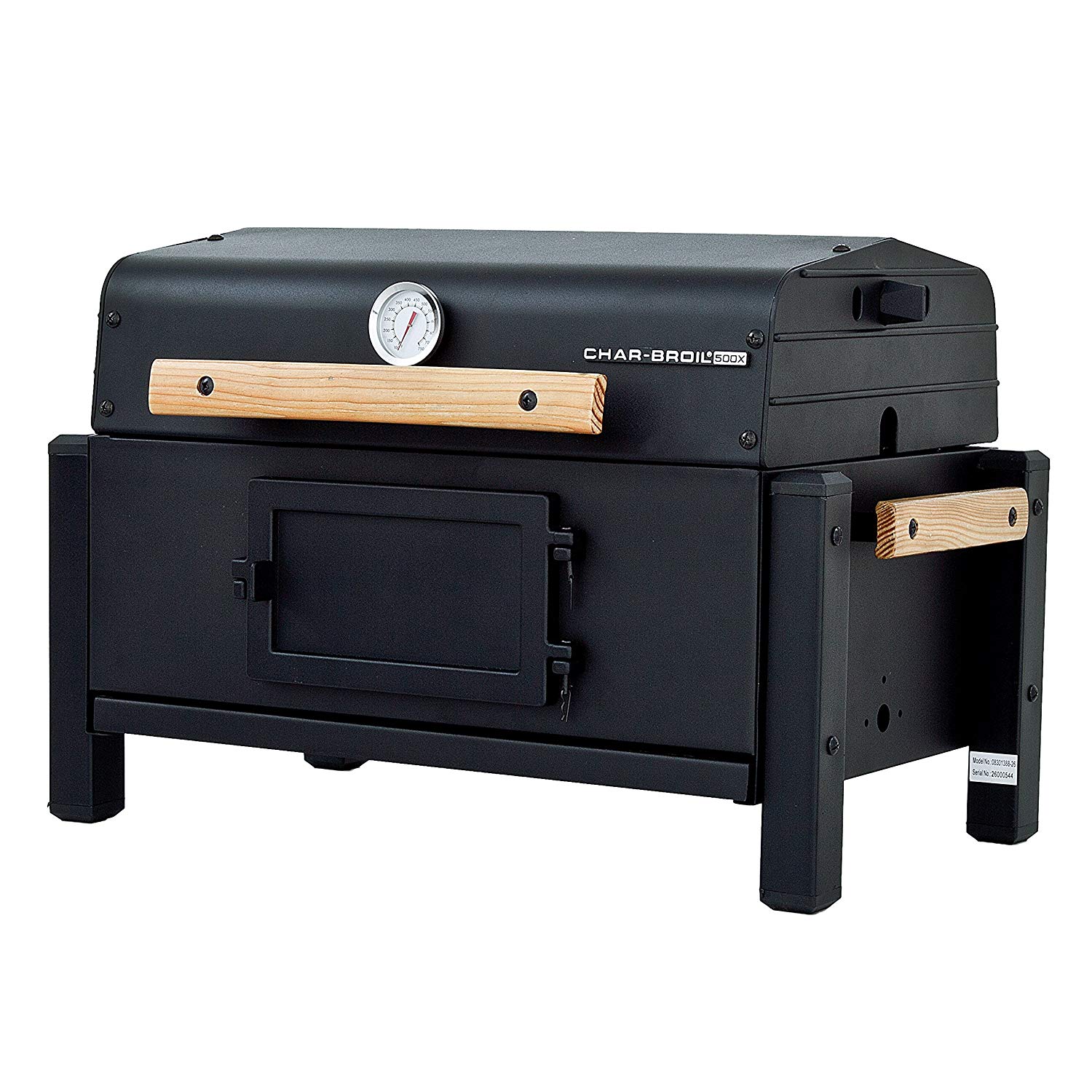 Char-Broil Portable CB500X Charcoal Grill Review
Quality materials
Adjustable height charcoal box
Front access door
A thermometer in the lid
Pull-out ashpan for easy cleanup
There are a lot of people who hold onto pleasant memories of charcoal grilled food on camping trips and at tailgating parties. Unfortunately, in recent years portable charcoal grills have gone a little bit by the wayside. It is largely due to the inferior materials used in their construction to keep the costs down. Instead, people who love the taste of charcoal grilled meats when they camp or tailgate will simply buy a disposable grill. This has led to more than one parking lot or campground garbage can fire!
Char-Broil goes the other way when it comes to portable charcoal grilling with their CB500X. It is built from sturdy thick gauge powder coated metal. It includes a thermometer mounted into the lid, which is very rare in portable charcoal grills from most other manufacturers.
The Char-Broil CB500X also has an adjustable charcoal firebox, with a front access door for easy reloading and stoking. There are dampers built into it to further help control airflow and heat management.
It also features a built-in, removable ash pan. Once everything is done burning you simply pull it out and dispose of the cold ash.
All told it weighs in at just a little over 40-pounds, which is a tad bit on the heavy side for a portable grill. Still, it's not unmanageably heavy, and the weight is largely due to the quality of materials, including cast iron grill grates with a special nonstick porcelain coating.
This is more than a simple firebox that might make it through a single summer or a full football season. Char-Broil designed and built this grill to last for years.
Construction & Ease of Assembly
The materials used in the Char-Broil CB500X are heavy duty and of quality. Just note that the instruction booklet gives you tips for how to prepare the firebox for the first time. This includes greasing the interior with a shelf-stable hydrocarbon (fat) like vegetable shortening.
Then you need to essentially break in the firebox with a modest fire of around 250 degrees for a little over two hours. If you don't follow their instructions, you may notice failures in the paint later on down the line. This might seem like a minor flaw, but it's actually somewhat common with smaller fireboxes like wall tent wood stoves.
Assembling this rather simple looking charcoal grill is a little bit more work than you might expect. It's got some moving parts and hinges which will probably take a while to put together. With some basic tools you already have laying around the house, you should be able to put it together in about two hours.
Grilling Performance
If you've worked with some cheap portable charcoal grills in the past, then you know what a hassle they can be. Most tend to flare up or burn out. Some of the cheaper disposable grills will even burn through at the worst possible moment.
You don't have to worry about these issues with the Char-Broil CB500X. The thick gauge metal will stand up to a proper charcoal fire. Being able to adjust the height of the charcoal fire is a really nice feature and pretty much unheard of in other portable charcoal grills.
It allows you to say make a Steak, where you can sear it with the charcoal up high for a minute. You can then drop the charcoal down for two more minutes. Then bring it back up, flip it for a minute of high heat fire to sear the other side. Then crank it back down again for three minutes to finish it off to a perfect medium rare pink interior with a beautifully seared outer crust.
One problem with the Char-Broil CB500X is that the bottom of the grill can sometimes get pretty hot. The legs are also a little short. If you set it on the metal tailgate of a truck or on a concrete surface it won't be a problem. It's not advisable to put it on a wooden picnic table of a plastic patio table, without something to insulate the space between the bottom of the grill and the tabletop.
Grilling Areas
The porcelain coated cast iron grill grates measure a total of 16-inches by 13-inches for a grand total of 208 square inches of grilling space. This is a considerable amount of real estate for a portable grill. With the right placement, you can get three ribeye steaks on it at the same time. If you need to grill up a large number of bratwursts, you can get them up in two rows, then just roll them from time to time.
Special Features
The thermometer built into the lid might be seen as a standard thing for a higher class of grill. However, it's pretty much unheard of with any type of portable grill.
The front access door and the ability to alter the height of the charcoal bed is also very nice, and incredibly rare with portable grills.
Ease to Clean
The special porcelain coating on the cast iron grill grates helps prevent food and things like excess marinade from getting stuck or burned on. Usually a simple scrape down with a stiff-bristled nylon grill brush.
The pull-out ash pan also helps with cleanup. Every now and then a large unspent coal can get stuck in there. When it does just pick it out with a metal pair of tongs.
Warranty
The Char-Broil CB500X comes with a 90-day warranty from the date of original purchase. This is a pretty skimpy warranty if you were comparing it to a full-size grill. Still, most portable grills have zero warranty, so I wouldn't necessarily call a 90-day warranty a major drawback.
Conclusion
If you want a portable charcoal grill that will last for more than a year, then the Char-Broil CB500X should be near the top of your list. Just make sure to season it and prepare it according to the manufacturer's instructions.
High Quality Portable Charcoal Grill
PROS
Quality materials
Adjustable height charcoal box
Front access door
A thermometer in the lid
Pull-out ashpan for easy cleanup
CONS
Needs to be broken in correctly
The bottom can get very hot
Take more assembly than expected