Char-Broil 16302039 780 Charcoal Grill Review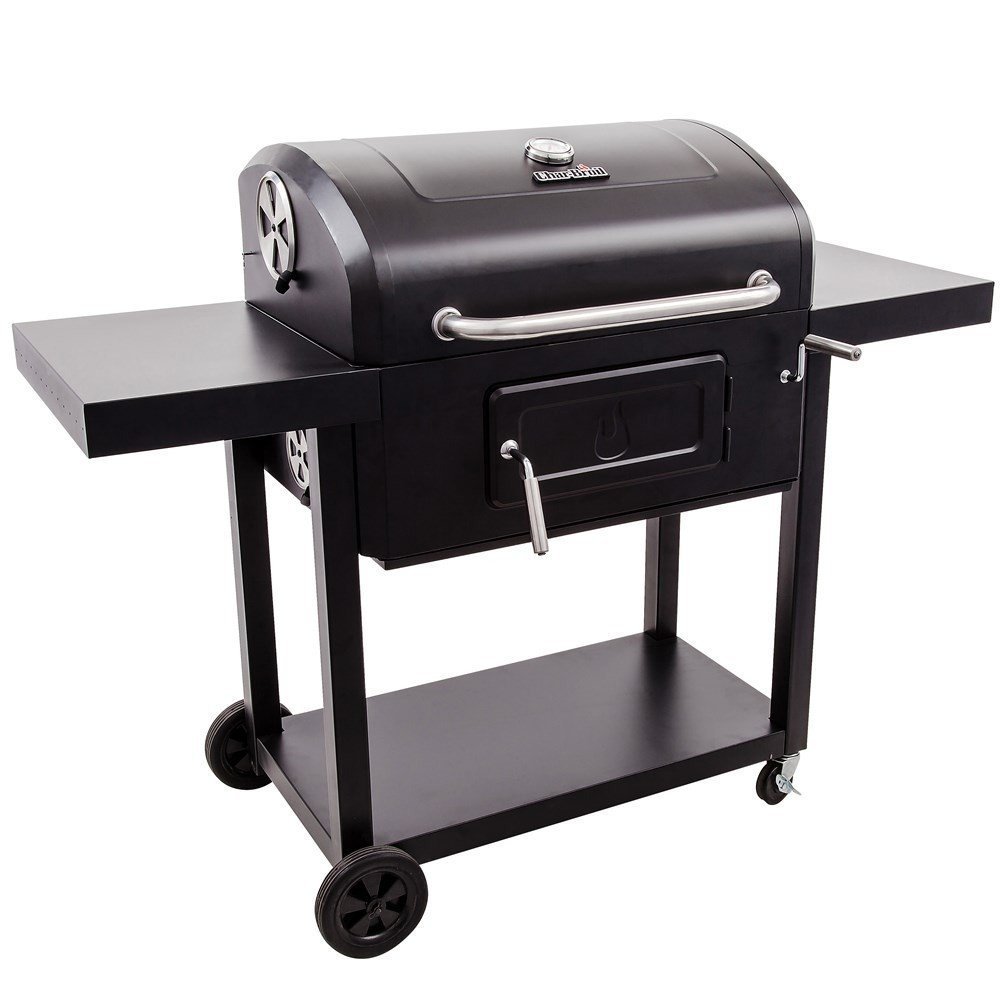 Char-Broil 16302039 780 Charcoal Grill Review
Large grilling surface
Large warming rack built into the lid
Front access door
Removable charcoal tray
Multiple dampers for airflow control
Can multitask as a smoker
In the past charcoal grills were thought of as being more than simple metal boxes or kettles that held charcoal over top of a grate. As time has gone on, charcoal grill manufacturers like Char-Broil have worked hard to design units that integrated thoughtful features meant to give outdoor cooks more control and versatility.
The Char-Broil Model 16302039 780 Charcoal Grill has an innovative firebox with several key features. It comes with a specially designed, removable charcoal pan. The charcoal sits in special rows that provide a targeted airflow for more efficient burning and far fewer flareups than you see with other traditional charcoal grills. This also helps with cleanup as the charcoal pan can later be removed and dumped into a metal bucket.
The firebox also has a front access door, which allows you to add extra charcoal or wood chips in the middle of a grilling session. It also has an adjustable crank, which allows you to raise and lower the charcoal pan to do things like sear a Steak, or do some hybrid grilling.
The Char-Broil 780 Charcoal Grill also has a slide out ash pan intended to catch any stray ash and cold embers that might escape the charcoal pan. The firebox and lid also have multiple dampers to allow you to precisely dial-in the airflow and temperature.
Construction & Ease of Assembly
The metal used for the Char-Broil 16302039 780 Charcoal Grill is a little thinner than you might like. This could become an issue in the long run, if rain gets into the firebox when not in use and the corrosive ash causes corrosion. To prevent this you should strongly consider getting a grill cover.
As time goes on ash can get trapped around the cranking mechanism. Make sure to keep an eye on this during cleanup, and use a stiff nylon brush to remove any ask or stray coals that become trapped there.
Because it has so many moving parts and integrated features the Char-Broil 780 take a little longer to assemble than other grills in the same size category. With some basic tools and a little mechanical skill, you should still be able to fully assemble it in two to two and a half hours.
Grilling Performance
The Char-Broil 780 Charcoal Grill is very versatile. The adjustable charcoal pan allows you to sear a steak on the highest setting to develop a nice crust, then lower it to finish for a perfect medium rare. You can also do some hybrid grilling with this grill. You can set something like a chicken leg quarter on one side of the grill with a small fire to cook through. When it's ready, you can then move it over the direct heat to crisp the skin and mark it.
The Char-Broil 780 Charcoal Grill is also large enough that you can improvise it as a smoker. To do this you will need to start a modest charcoal fire on one side of the charcoal pan and place the meat to be smoked on the other side. Just make sure to place a drippings pan under the meat to keep any runoff marinade or grease from flooding the charcoal pan.
Grilling Areas
The Char-Broil 780 Charcoal Grill has a 540 square inch primary cooking grate that has been coated with a special layer of semi-nonstick porcelain. It also has a 240 square inch warming rack that swings with the lid. All told it provides you with 780 square inches of grilling space.
This is more than enough to grill a large number of chicken breasts, steaks, or hamburger patties. It also gives you enough room to improvise the Char-Broil 780 Charcoal Grill as a smoker. Just keep in mind that the warming rack and lid might limit the height of what you want to prepare. In the case of something like beer can chicken, you might need to remove the warming rack first.
Special Features
The special charcoal pan improves airflow for a more efficient fire with fewer flareups than you find with most other charcoal grills. This also helps work in conjunction with the multiple dampers built into the firebox and the lid.
The front access door allows you to add more coals or woodchips in the middle of a grilling session.
Ease to Clean
The Char-Broil 780 Charcoal Grill is easier to clean than most other box-style charcoal grills. Most of the ash and spent coals stay in the removable charcoal pan. Anything that escapes, falls into the pull-out ash drawer at the bottom of the firebox.
The ash pan is a little on the shallow side, and from time to time an ember can get trapped in such a way that it jams the ash pan. Also, make sure to give the fire time to fully go out and cool before you pull the charcoal tray out. It can be a little awkward to handle, and you don't want to burn your hand. It might help to simply buy a cheap welding glove or use a locking pliers to grab it.
The porcelain coated, cast iron grill grates can be brushed clean. If something is stubbornly stuck on, you can remove them and soak in warm soapy water until it releases.
Warranty
The Char-Broil 780 Charcoal Grill has a limited warranty on all parts and components for one year from the original date of purchase.
Conclusion
If you are looking for a large charcoal grill that can also be improvised as a smoker, it's hard to look past the Char-Broil 780 Charcoal Grill. It provides you with size and versatility at a very reasonable price point. Just take special care to maintain it, and clean it thoroughly, and it should serve you for many years of outdoor grilling.
PROS
Large grilling surface
Large warming rack built into the lid
Front access door
Removable charcoal tray
Multiple dampers for airflow control
Can multitask as a smoker
CONS
Metal is a little thin
Ash pan can sometimes jam
Very limited warranty